Welcome to our
DVD Affiliate Program


Home > Affiliate Program

Thank you for your interest in becoming an affiliate for our products. If you love pole dancing and you own a website, publish a blog, or are social media savvy, you can earn extra cash by promoting this set of pole fitness DVDs.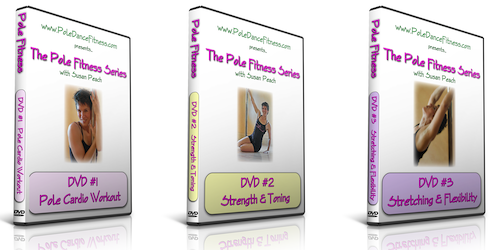 Here's what you need to know:
---
Would you like to carry our DVDs in your studio?
---

What's An Affiliate Program?
Affiliate marketing is a form of advertising that allows affiliates (that's you) to earn a commission for each sale they send to a merchant's (that us) website.
Merchants love it because it's a cost-effective form of advertising. Instead of spending thousands of dollars on expensive ads that may or may not attract buyers, we pay a commission directly to the person who sends us a sale.
Affiliates (or publishers) also like this system because they're able to leverage their website traffic or email list to generate additional income.
And unlike the wholesale model, with an affiliate program there's no need to purchase or stock inventory. We handle all the questions, shipping and customer service.
You just promote our products with the links and banners we supply, then collect your commission whenever someone makes a purchase using your affiliate link!

How Much Will I Earn?
You'll earn a 15% commission (currently $9.75) on each sale of the Pole Fitness DVD set that you send us. If and when additional products are added to our affiliate program, we'll notify you of their availability and the commission rate so you can start promoting them as well.
Currently, commissions are payable only on the 3 DVD set and not on single copies. This is because over 97% of people purchasing the DVDs buy the full set. If demand for single copies increases in the future, we'll probably add them to our affiliate program too. We'll always keep you informed of changes or updates to our program.

What Else Do I Need To Know?
There is no minimum payout level. If you bring us one sale in a month, you'll receive a payment the next month.


Payments are made on or before the 20th of the following month. For example, commission payments for April are paid by May 20th at the latest.


To get paid, you must have a PayPal account. Our affiliate management system handles all payments through PayPal, so you MUST have an active Paypal account to get paid. You can open one for free if you don't yet have one.


Even if customers don't buy on their first visit, you can still earn a commission. Sometimes people need to look a few times before deciding to purchase something. That's why we offer a 6 month return cookie. In other words, if someone clicks through your affiliate link, they will be "linked" to you for 6 months. If they return to make a purchase within that time frame, you'll receive the credit, even if they didn't arrive via your website on subsequent visits.


If sale prices or discounts are offered, you will receive 15% of the sale or discounted price, so your commission amount may vary depending on current specials.


We rarely receive returns, but in the event that a product is returned, your account will be debited the commission for that return, and your next payment will be adjusted accordingly.


I recommend you familiarize yourself with the products you choose to promote. The best way to generate sales using an affiliate program is to send "pre-sold" visitors to our site. This means you've filled them in on what the product is and why they need it, so when they click your affiliate link they're ready to buy. It's a good idea to read the Pole Fitness DVDs landing page, as well as the pages describing the individual DVDs, so you know the products you're promoting. You can paraphrase or use short quotes, but please do NOT copy and paste directly from these page. It's much more effective to use your own words and writing style, and less apt to cause problems with duplicate content.


At this point, our affiliate program offers commissions only the Pole Fitness 3 DVD set. If and when we add additional products, we'll let all our affiliates know so that you can promote these too if you like.

How Do I Get Started?
Easy...just click to sign up for the Pole Dance Fitness affiliate program.
We run our affiliate program through e-junkie, and that's where you'll go when you click the link above. Once there, here's what you need to do:
Register for a new account (if you don't already have an e-junkie account)


Click "Get Affiliate Code" (If you don't see that, click "Affiliate Admin" and then click "Get Affiliate Code")


Select "Pole Dance Fitness" from the list (or enter it in the search box) and choose "Get Affiliate Code"


Go to "Get Product Specific Affiliate Links" at the bottom of the page (you can use the common hoplink, but it's much more effective to send people directly to the product-specific sales page)


Select the product you wish to promote from the drop-down list


Click "Get Affiliate Code"


Copy the code snippet that you'll see in the yellow box. It will look something like this: < a href="https://www.e-junkie.com/ecom/gb.php?ii=74##63&c=ib&aff=####&cl=####" target="ejejcsingle">Click here to learn more < /a >.


Paste this code into your website where you want the affiliate link to appear.

Do You Have Banner Ads?

Yes! You can use any of the ad graphics below in your ad campaign. More are coming soon.

Important: To receive credit for any sales you generate with these banners, you MUST replace the sample affiliate code shown in the text box with your own. The sample affiliate code is the first part of the code shown in the box below each banner.
If you're not sure how to do this, just follow the step by step instructions below the banners. I promise it's not hard at all!
---
To place this 450 x 280 banner on your site,
copy and paste the code below the image.
Remember to replace the sample affiliate code with your own.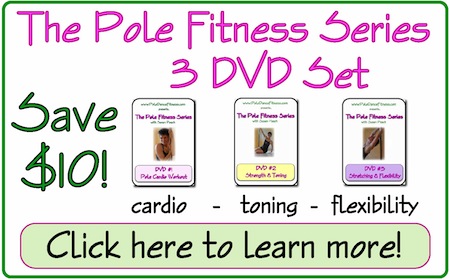 ---
To place this 160 x 600 banner on your site,
copy and paste the code below the image.
Remember to replace the sample affiliate code with your own.

New banners are coming soon! In the meantime, if you want a different size banner, or one that's customized for your site, just let me know. I'll be happy to create one to meet your needs.

Here is an easy way to get these banners on your site with your own affiliate code embedded:
Highlight and copy the entire code string shown in the box below the banner you want. Make sure you get all the code...don't leave any behind or it won't work.


Paste the code into your website or blog where you want the banner to appear.


Got to your e-junkie account and copy your own affiliate link code for the Pole Fitness DVDs.


Come back to your website where you pasted the banner code. Highlight this part of the code string: < a href="https://www.e-junkie.com/ecom/gb.php?ii=74##63&c=ib&aff=####&cl=####" target="ejejcsingle"> (everything before the < img... part of the code) and paste your own affiliate code here instead.


Finally, delete the text part of your affiliate code string, as this is not needed with a banner link. The part you need to delete will look something like this: Click here to learn more < /a >

I Need Help!

No problem! When I say "we" I'm referring to the corporate "we." My name is Susan and this is my website. I manage everything myself, including the affiliate program.
That means I'm here to assist you with anything you need, from helping you set up your links to creating customized banners to meet your needs. Feel free to contact me anytime with questions or special requests.
Wishing you much success with the Pole Dance Fitness DVD affiliate program!
---
Would you like to carry our DVDs in your studio?

Click here for information on wholesale pricing.
---

Here are some other pages you may be interested in:
Pole Biz - The E-Zine For Studio Owners
Article: Help New Students Feel Welcome