Erotic Pole Dancing
DVD & Music CD Set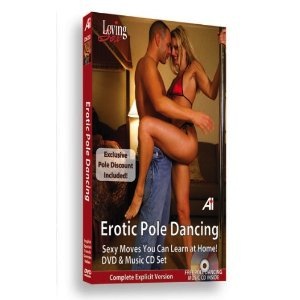 Erotic Pole Dancing DVD & Music CD Set

Click to find the best price on Amazon.com
Erotic Pole Dancing
Wendy Traskos, creator of this DVD, is also the founder of New York Pole Dancing, a celebrity trainer, and a fitness champion.
Be warned that this is not your typical pole fitness instructional DVD. While it does teach dance moves and tricks, the focus is more on the seductive side of the sport, suggesting that pole dancing as foreplay can lead to great sex.
While that may indeed be true, and some women or couples may be interested in spicing up their private lives with a little pole play, others may find this either irrelevant or objectionable.
Nevertheless, the instruction is good, with a variety of moves presented. Just be prepared for the bedroom scenes!
---
Have you seen this DVD?
If you own it or have watched it, please share your thoughts below. Those who are considering buying it will thank you, as it will help them decide if this is the right DVD for them. Here are some ideas for what to cover in your review:
Is this DVD suitable for beginners, intermediate, or advanced pole dancers?


How was the instruction? Did the teacher explain the moves and tricks well, or did you struggle to follow her?


What's the one thing you liked most about this DVD? Anything you really didn't like?


Compared to other pole dancing DVDs you've seen, how would you rate this one?
Want To Buy it? Click to find the best price on Amazon.com
---
Click the Comments link below
to share your opinion of this DVD...
---