Flirty Girl Fitness
Intermediate Pole Dance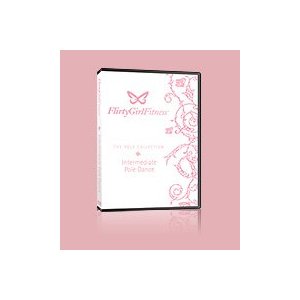 Flirty Girl Fitness - The Pole Collection:
Intermediate Pole Dance DVD

Click to find the best price on Amazon.com
Flirty Girl Fitness
Intermediate Pole Dance
Geared towards those who have done some beginner pole dancing, or who have worked through the beginner level Flirty Girl DVD, this continuation promises to feed your addiction.
Once you've got the basics down, this DVD will teach you more moves and combine them into a choreographed routine.
---
Do You Own It?
Please share your thoughts! It will be helpful to others who are shopping for DVDs, as there are so many to choose from nowadays. You might want to mention:
Is the stated level of difficulty accurate?


How was the actual instruction? Clear and easy to follow, or difficult to understand? Was safety covered? What about the all-important details...did you feel you could follow along well without getting lost?


What did you like best about this DVD? Least? Would you recommend it and if so, for what level of student?


How do you think it compares to other DVDs at a similar level?
Want to buy it? Click to find the best price on Amazon.com
---
You can leave a comment on this DVD by clicking the blue Comments link just below. Thank you!
---