Hot Booty Shorts

Home > Pole Dancing Shorts > Hot Booty Shorts

Even if you're into pole dancing mainly for fitness, a pair of sexy shorts may make their way onto your "must have list" sooner or later, replacing your tried and true fitness clothing.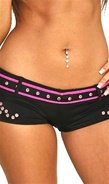 Once you experience the confidence that all those awesome, super sexy strength moves can instill, there's just something about "dressing down" when you're dancing.
After all, the more skilled you become on the pole, you actually
need
to wear less clothing in order to be able to do all those tricks.
So you might as well feel yummy in some of these hot booty shorts while you're at it!
If you're ready to graduate from fitness-based clothing to something just a little more hot, these cheeky booty shorts might just fit the bill

I've scoured the internet to find the absolute best deals for you. Whether you're looking for lycra, leather, lace or PVC, , you're sure to find something sexy here.

Happy shopping!
---

Too Hot For You?
Never fear...you have options! Just click on any of the pictures below to learn more about that style, if the ones shown above are just a bit too hot for you just yet!
All of the styles shown just above are available in a wide variety of colours and patterns. They can also be purchased with matching tops that come in quite a few different styles.
If you're looking for pole fitness wear instead of some of the sexier booty shorts show on this page, do take a look at this line of fitness gear made just for pole dancers. These clothes are fun and playful, yet functional for the needs of our sport.


Find more pole dance wear on these pages...