Lycra Booty Shorts

(pssst...they're perfect for pole dancing!)

Home > Pole Dance Clothing > Lycra Booty Shorts

These basic, yet flattering shorts are the perfect thing for your pole fitness class, or just for practice time.


Flattering, Versatile & Affordable!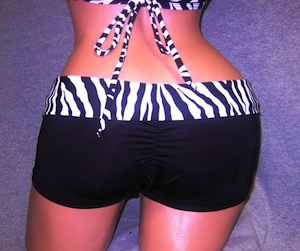 Reasonably priced yet very high quality, these shorts have a very flattering fit thanks to the optional "scrunch bum" design that enhances any derriere.
Plus, they come in a huge variety of fabulous fabric options for the fold down waistband, so they're as fun as they are comfy. Here are just a few of the many colour choices available...
---
Please excuse our temporary service disruption
Our supplier for this clothing has recently moved operations to another country and has changed our purchase program. We can still get this clothing for you during the transition, but are unable to process orders through our regular shopping cart right now.
If you see something you would like, or you would just like more information about any item on this page, please feel free to contact us and we will be happy to provide personal assistance.
Thank you for your patience, and we look forward to being back up and running shortly!
---

About These Lycra Shorts

These shorts are made of a super comfy wicking fabric that's soft and stretchy. That means they'll move with you, and keep you dry and comfortable while you're working out.
And the fold down waistband allows you to quickly and easily adjust the fit, making them versatile enough for almost any fitness activity, from pole dancing to yoga and much, much more.
Everyone who tries them on LOVES the fit. They may look basic, but they are incredibly flattering and super comfy once you have them on. Your butt will love them!

Here are some examples of the different ways
these cute shorts can be worn:
| | | |
| --- | --- | --- |
| For the highest waist, simply wear as is, no need to fold. | Fold the waistband halfway for medium coverage. | For low riders, just fold the waist band all the way over. |
---
Whichever way you wear them
they will flatter your tummy & tush
while keeping you cool and comfy
---

Lycra Booty Shorts for Pole Dancing
Features at a Glance:
Super stretchy fabric wicks sweat away from the body.
High lycra content means these shorts will not stretch or lose their shape - fits close yet comfortably.
No front or back seam to irritate or chafe.
Versatile, adjustable waist goes from high-waist to low-rider in a split second
Tested and approved by pole fitness instructors and dancers.
"Scrunch bum" gives you that perfect apple bottom shape, even if you don't have much "junk in your trunk!"
Will not gape at the crotch
Available in X-Small to XX-Large sizes
Custom sizes also available!


More Details

These lycra booty shorts are the perfect everyday pole dancing wear. Super comfy, they hug your curves without cutting into your skin or gaping at the waist or the crotch.
| | |
| --- | --- |
| Wear them high for more coverage | While perfect for pole dancing, they can also do double duty in your hot yoga class, or even out on a run. The high quality sport fabric wicks moisture away from your skin to keep you cool and comfy. |
| | |
| --- | --- |
| You'll get lots of mileage out of them, and they wear extremely well thanks to the high lycra content that helps these shorts keep their shape even under daily wear conditions. | Flip the waistband down part way if you like. |
Fold all the way over
if you dare!


These sporty shorts have another great design feature...there's no front or back seams to irritate your "delicate bits," and the optional "scrunch bum" flatters any shape of derriere, even one that's barely there!

Need a top to go with these booty shorts?
Click here to see a variety of matching tops


Not sure if these shorts are for you?
Here are some more options you might like...

Other Pages Of Interest...