Pole Fitness Outfits


Home > Clothing > Pole Fitness Outfits


Looking for some fun yet functional pole dance clothes? This super cute fitness outfit is stylish yet comfy, so you'll feel good and look great in or out of class!
The matching "Pole Angel" set is a top seller, and for good reason. It's flattering without being too revealing, looks sharp with its contrasting logo, and provides excellent quality at a reasonable price.
If you prefer, you can even buy the shorts or the top alone.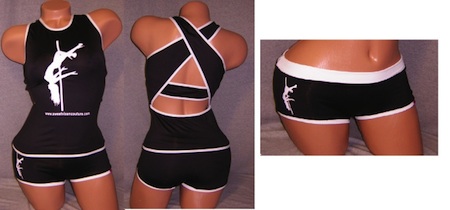 Important Note: The image above shows this pole fitness outfit on a mannequin so you can see how it looks on. Currently we do NOT have the white trim style in stock. Instead, we have a similar style (below) with the logo in white but all black instead of with white trim.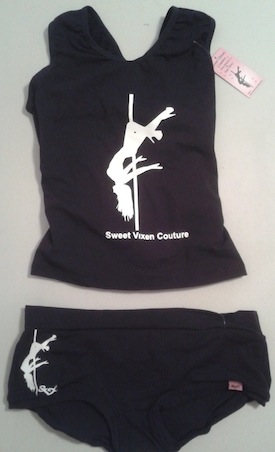 Pole Angel Set - $87

Pretty hot, huh? It also looks and feels great on! Made specifically for pole dancing, this clothing moves with you without binding or gaping.

Choose your size below to purchase


This set is in stock in sizes Small, Medium and Large. And if you need a smaller or larger size, we can even have one custom made just for you.


Important Sizing & Shipping Info
Please note that the shorts measurements below are for the hips, not the waist.
The tops are meant to fit snug so they stay in place when inverting. If you prefer a looser fitting top, please go up to the next size.
All of these clothing items are VERY stretchy - they will look small but will stretch a LOT when you put them on!
XS – 32"- 34.5"bust (see below)
S - 34.6"- 36.5" bust
Med - 36.6"- 38" bust
Large - 38.1"- 41.5" bust
XL -  42.6"- 46.5" bust (see below) 
XXL - 46.6"-52" bust (see below)

XSmall - 29"- 33" hips (see below)
Small -  33.1"- 36.5" hips
Med -  36.6"- 40.5" hips
Large - 40.6."- 43.5"hips
XL - 43.6"- 47.5" hips  (see below)
XXL - 47.6"-54" hips (see below)
While we are not yet carrying XS or XL/XXL sizes in our regular inventory, we will be happy to special order these sizes for you when we place our next regular order. Contact us for more information.

Shipping

Worldwide shipping is $16 for up to 8 pieces of clothing, including delivery confirmation.

We regret that due to a very high number of claims of packages not received, we are no longer able to offer a less expensive shipping option that does not include tracking and delivery confirmation.
However, you can now order up to 8 items and pay no additional shipping costs...why not browse our other items, or combine your order with a friend's and save?!

This is just one of several styles available in our line of pole fitness outfits. We love this line because it's...
hand sewn with attention to detail


made with high quality wicking fabric that keeps you dry and comfy


available in custom sizes


made specifically for the sport you love


reasonably priced

Looking For More Clothing Options?
How About...


Or Visit These Other Helpful Pages...