PoleTricks 101 Volume 1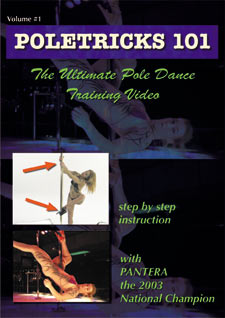 Poletricks 101

Click to find the best price on Amazon.com
Poletricks 101 - Basic Info
This DVD is 43 minutes long and is subtitled, "The Ultimate Pole Dance Training Video." The moves are demonstrated by Pantera, the 2003 National Pole Tricks Champion.
The DVD is voiced over and uses freeze frame and graphic overlays to help viewers understand how each move is done. Viewers are cautioned that there is some nudity in this DVD.
From the DVD cover:
PoleTricks 101 is the defining approach to learning the art of Pole Dancing.
Whether you're a beginner or a seasoned veteran, Volume #1 of PoleTricks 101 has over 20 tricks broken down in a step-by-step, interactive video that is easy to learn from.
No other video on the market offers such an easy approach to learning the art of pole dancing as PoleTricks 101.
With simple to advanced tricks, PoleTricks 101 is a rewarding training video that will teach you an art to last a lifetime.
---
Do you own this DVD?
Please submit a short review in the comments section below to help others decide if this is the right DVD for them. Here are some questions you may want to answer in your review:
When did you buy it and how often have you used it?


What level would you rate it - beginner, intermediate or advanced?


Is the instructor easy to follow and does she explain the material well?


What do you like best about this DVD? Least?


How would you compare it to any other instructional pole DVDs you've seen?


Anything else you'd like to tell us that would help a potential buyer know if this DVD was a good choice for their needs.
Click to find the best price for this DVD on Amazon.com
---
Scroll down to read user reviews...
Don't see any? Be the first to tell us what you think of this DVD!
---