YogaToes

Help For Your Aching Feet

Home > Pole Dancing Injuries > YogaToes


If you get cramps or have other painful foot conditions caused by pole dancing - whether in bare feet or high shoes - you might be interested to hear what Your Pole Pal has to say about her latest discovery. . .YogaToes!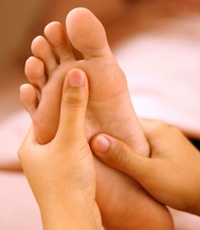 "I've been a dance and fitness instructor for all of my adult life, and was an avid triathlete for a number of years.
Believe me, I put my feet through a LOT on a daily basis!
In recent years, I've been getting feet cramps when I point my toes.
And as any pole dancer knows, having to flex your feet because of cramps just isn't sexy!
I've also had a lingering case of plantar fasciitis for over 8 years in my right foot - not enough to take me out of the game entirely, but that foot always feels tight and often "hot" after running or dancing.
Then a couple of years ago, I got a pair of slippers that were really a half size too small. I guess I was trying to ignore the fact that my feet were gradually getting bigger along with my advancing age, so I pretended they fit and wore them anyway. This resulted in pain in the joints of my big toe (also on the right foot).
Get a s-t-r-e-t-c-h for your sore, tight foot muscles
Now I'm always feeling like my foot needs to be put on a mini rack and stretched out. And my ankle gets sore now too, probably because I'm walking funny to compensate for my foot pain.
Needless to say, I was really curious to see what YogaToes could do for my sore feet when I first learned about them.
I actually happened across them one day while browsing online for I-don't-remember-what-now. As soon as I saw them I thought, I have to try those!
I contacted the company with some questions, and they offered to send me a review pair. (I mention this in the interest of full disclosure - you can read more about my policy on product reviews if you like).
As soon as my package arrived I slipped them on and instantly loved the stretch they gave my feet. I wore them at my desk for about 20 minutes, until my feet started to feel like they needed a break, and when I took them off I could almost hear my toes sighing with delight.
In fact, my entire foot felt wonderfully stretched and relaxed. So much so that I couldn't wait to put them back on! Now I wear them for up to an hour at a time, sometimes several times a day, and my feet are lovin' it!
YogaToes are even doctor recommended, as you can see in the following short video clip.
As I mentioned, they won't do you any harm as they're simply a natural stretching aid for your feet. And at best, they may even help you with the following causes of foot pain :
bunions
hammertoe
foot fatigue
foot cramps
crossed toes

plantar fasciitis
poor circulation (ever get cold feet like me?)
varicose veins
feet cramps
Not everyone will love these funny looking foot stretching tools at first, especially if you aren't used to having your feet worked on, or if you have especially tight muscles in your feet, or if you get cramps often.
According to the manufacturer, if they do feel uncomfortable, this is likely a sign that your poor feet really are in need of some TLC. In this case, you're advised to start by wearing them for only a few minutes at a time, and gradually work your way up to longer periods of wear.
This makes sense, if you think of your feet like any other muscle in your body.
If you're prone to feet cramps or you have pain or a feeling of stiffness, your foot muscles are likely very tight. It will take time to stretch them out again, but if you're consistent with using your YogaToes, your pain and stiffness should be reduced over time.
YogaToes are available in several colours, sizes and models. Here's a picture of the original model in sapphire blue (above left) and the new Gems model (above right), which come in a beautiful sparkly ice blue colour and a unique, even-easier-to-put-on design.
The newest addition, Sensations (pictured at left), includes a pair of deluxe, vibrating massagers.

These clip directly onto the YogaToes and provide a massaging sensation while your feet get their daily stretch.

You can also order the massagers separately as an add on, which I think I may just do. Apparently they're a very popular option!

Other models include the Sport, which come in more masculine colours and are ideal for active guys who also need to look after their feet (my guy has his very own pair!)
My opinion? YogaToes are an amazing treat for sore and achy feet! (Sorry, just couldn't resist the rhyme.)
If you experience chronic foot pain, pain in the ball of your feet, cramps or other foot ailments, you might want to give them a try.
At the very least, they'll give your foot muscles a good stretch and they can't do any harm. Best case scenario...your painful feet will feel much better!

Other popular pages for you to see...