Sexy Womens Boots
For Pole Dancing & More!

Home > Pole Dancing Boots

If you've been searching for the perfect pair of sexy women's boots for pole dancing (or otherwise), look no further!
If you're anything like Your Pole Pal, a pair of thigh-high black platform boots is on your secret pole dance wish list.
There is a practical side to boots for pole dancing of course, since the right boots can help you get a better grip during inversions and leg holds.
They can also offer some protection from pole burn on your legs, and of course they give you a super sexy sway when you walk.
What's not to love?!
Your Pole Pal is always on the lookout for new sexy boots at the best possible prices. And of course she adores bringing all her finds together for you here in one place.



Ready to Browse?
This collection of boots is organized into categories to make it easier for you to find what you need. That way, you can quickly narrow down you search by color or style.
From sexy ankle boots to thigh high platforms, Your Pole Pal is working hard to bring you a wide selection. Please check back often as more items are always being added.

Search by Color

Black Boots
(Coming soon!)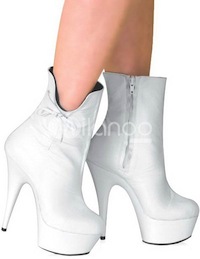 White Boots
(Coming Soon!)
Search by Style

Other styles coming soon include sexy women's boots in knee-high and thigh-high styles.


Need a Wide Width?

Check out these wide width platform shoes and boots
---