Dr. Amy's Pole Workout Vol 2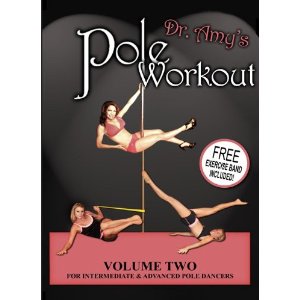 Dr. Amy's Pole Workout (Int/Adv)

Click to find the best price on Amazon.com
Dr. Amy's Pole Workout Vol. 2 - Basic Info
This DVD INCLUDES:
A 30 minute Pilates style workout (free exercise band included with DVD)
12 Intermediate to Advanced Pole Dancing Combinations that begin and end in the standing position so that you can mix and match them to create your own Pole Dance.
Intermediate to advanced climbing and inverted poses.
A break down of the combination moves and transitions including how to safely spot someone during inverted moves.
One choreographed pole dance utilizing 8 of the 12 combinations taught in this DVD.
From the DVD cover:
Amy Rosen D.C. has been, a doctor of Chiropractic since 1996, a teacher of pole dancing since February 2007, an ACE certified group fitness instructor since 1995, including a certified Pilates Reformer Instructor, and a mother of two toddlers. With her vast experience in the group fitness industry combined with her chiropractic background you can be sure that you will be working out in a fun and safe format.
---
Do you own this DVD?
Please submit a short review in the comments section below to help others decide if this is the right DVD for them. Here are some questions you may want to answer in your review:
When did you buy it and how often have you used it?


What level would you rate it - beginner, intermediate or advanced?


Is the instructor easy to follow and does she explain the material well?


What do you like best about this DVD? Least?


How would you compare it to any other instructional pole DVDs you've seen?


Anything else you'd like to tell us that would help a potential buyer know if this DVD was a good choice for their needs.
Click to find the best price for this DVD on Amazon.com
---
Scroll down to read user reviews...
Don't see any? Be the first to tell us what you think of this DVD!
---