Pole Addiction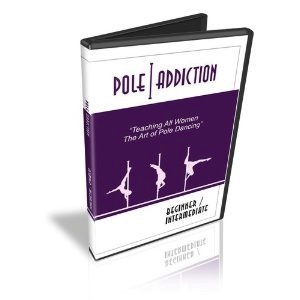 Pole Dancing Combo DVD from Pole Addiction

Click to find the best price on Amazon.com
The Pole Addiction Combo was originally available as "Home Party & Beyond" and a beginner/intermediate instructional DVD. They have now been combined into this 2 DVD set.
Between the two DVDs, you'll learn over 70 pole tricks of varying levels. There are also 4 complete routines taught, as well as 3 shorter mini routines that combine just a few moves.
These are great to break out as segments to incorporate into your own choreography. Or use them as mini lessons so you don't feel overwhelmed!
---
Is this DVD in your home library?
If is is, please consider leaving a short review with your comments so that others can benefit from your opinion. I'm sure other students will find it helpful in choosing whether or not to purchase this DVD.
Stuck for what to write? Here are a few items you may want to mention:
What level is this DVD set suitable for?


How was the instruction? Was everything explained clearly or were you unsure of what to do at times?


Was there something you particularly liked or disliked about this DVD?


Compared to other DVDs you own or have seen, how does this one measure up?
Want to buy it? Click to find the best price on Amazon.com
---
To leave a review, simply scroll down the page a bit more and look for the "comments" link...
---
Return to Pole Dancing DVD Review.