PoleCats 1:
Beginning Pole Dancing DVD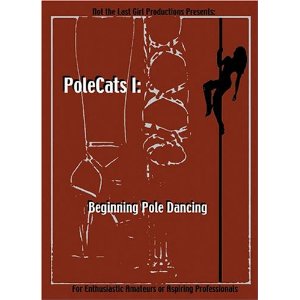 PoleCats I: Beginning Pole Dancing

Click to find the best price on Amazon.com
This DVD has been around a while, having come out in late 2005 just as the pole fitness movement was starting to take hold.
According to existing reviews on Amazon, many people found the production quality lacking, but most seem to think the instruction more than made up for it.
Lots of positive comments regarding the focus on safety, as well as on teaching the details of the moves presented, were additional pluses noted in the reviews we've seen.
We'd love to know what YOU think!
---
Do you own this DVD?
If you've seen it, perhaps you'd take a moment to leave a short review of your own. Other visitors who are searching for just the right DVD would love to read your comments. Here are a few points you may want to talk about:
Who do you think this DVD is best for - beginners, pole dance students with some experience, or advanced students/teachers?


How well did the teacher explain things? Did you understand her instructions, or was she hard to follow?


What did you like best about this DVD? Was anything a real turn off?


How would you rate it against other pole dancing DVDs you own or have watched?
Want to buy it? Click to find the best price on Amazon.com
---
To leave your own review, just scroll down and look for the blue "comments" link.
Thanks for your input!
---