Are there boy shorts out there for plus size girls with tank tops?

(Georgia)
What type of clothes for plus size women who are interesting in pole dancing?

Also are there boy shorts and cute tanks for pluz size women. I am 227 pounds and I do have a stomach that I want to get toned down ASAP.

Susan from PDFF replies:

Hey Georgia, welcome to the wonderful world of pole dancing!

To answer your question, YES! there are definitely some nice pole dancing duds out there for plus size women. As for what types, just about anything you want!

If you're looking specifically for pole fitness wear (as opposed to lingerie), I recommend you check out Sweet Vixen Couture. Lorraine hand sews each garment to order, and she'll definitely be able to help you as she can make any size that you need. She'll even make shorts and tops in different sizes if that's what works best for you.

She has booty shorts, side tie shorts, boy shorts with a foldover waist band, and many other styles of pole dancing shorts as well. And she definitely some very cute tank tops in a number of different styles to suit almost any taste. And bonus...all the tops can be made to match any shorts!

Now if sexy boy shorts and tanks is more what you're looking for, do check out these resources:

This page has a variety of plus size lingerie, including some cute corset sets and some clingy chemises with matching panties.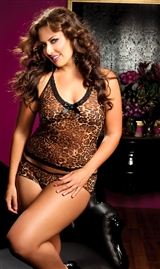 If that's not quite what you're looking for, do pay a visit to
Wicked Temptations' plus size lingerie section
...they have some gorgeous goodies!
There are pages and pages of sexy plus size outfits, some of which would be perfect for sexy pole dancing!
I'm also working on adding some new pages to my section on
pole dancing clothes for plus size women
, and you've just motivated me to get to it! So you might want to check back there in a week or so to see what other goodies I've been able to find.
I hope this helps, and have fun with your new pole dance clothes Georgia!