Pole Cardio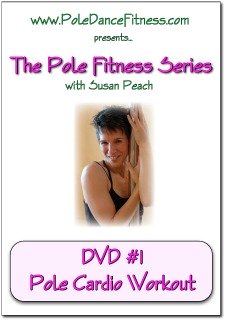 Pole Fitness: Pole Cardio
Click here to buy direct
Or Click to find the best price on Amazon.com
Pole Cardio - Basic Info
This DVD is about 45 minutes long and is like an aerobics class on the dance pole. This is not an instructional pole dancing DVD, but rather a pole fitness workout DVD where the instructor leads you through a fat-burning cardio pole dance routine.
From the DVD Cover:
Pole Cardio is NOT another pole tricks DVD! It's a high energy, low impact, aerobic pole dance workout that incorporates simple pole moves into a a fun and sassy cardio routine. And it's guaranteed to get your glow on!
You'll be amazed at how hard you'll work during this 40 minute class, yet you don't need to know a single spin or fancy pole trick.
Pole dancers of all levels - from beginner to expert - can enjoy this fun cardio routine, and it's so much fun you'll hardly even notice that you're working out!
---
Do you own this DVD?
Please submit a short review in the comments section below to help others decide if this is the right DVD for them. Here are some questions you may want to answer in your review:
When did you buy it and how often have you used it?


What level would you rate it - beginner, intermediate or advanced?


Is the instructor easy to follow and does she explain the material well?


What do you like best about this DVD? Least?


How would you compare it to any other instructional pole DVDs you've seen?


Anything else you'd like to tell us that would help a potential buyer know if this DVD was a good choice for their needs.
Click to go to the order page for this DVD
---
Scroll down to read user reviews...
Don't see any? Be the first to tell us what you think of this DVD!
---