Looking For A Great
Cardio Pole Dance Workout?


Home > Pole Dancing Exercise > Cardio Workout DVD


There are lot of fantastic pole dancing DVDs available these days, but if a cardio pole dance workout is what you're looking for specifically, the pickings are pretty slim.
Not that there's anything wrong with what's out there right now...heck, you can learn all kinds of tricks, spins, transitions, even complete choreographies on DVD.
But what's missing is a simple but effective program designed to help you torch calories while you're dancing.
You know, like a fitness class on your dance pole!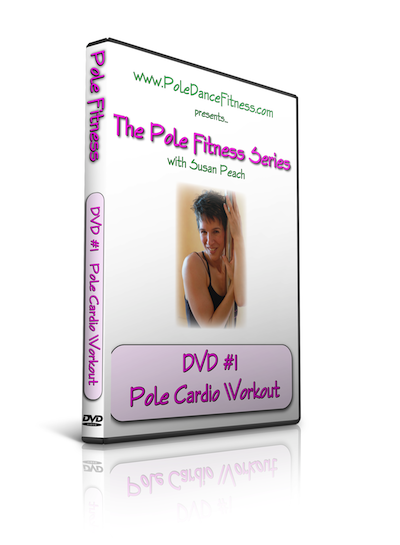 Believe me, you're not the only one
looking for a workout DVD!
I've had so many people email to ask me where they could get a cardio focused program, but I kept coming up empty handed in my searches.
So I decided to take matters into my own hands.
Using my 25+ years of experience teaching fitness and dance, I've produced a series of 3 pole fitness DVDs.

The first DVD - Pole Cardio - focuses entirely on using your dance pole to get a fantastic fat-burning cardio workout.

I leave the tricks to the pros, and instead I do what I do best...give you a fun and effective calorie burning dance routine that you can benefit from, no matter what your level.

---
Or, click to save $10 on the full set of 3 DVDs!
---

More About The Cardio DVD
DVD #1 in this series is a cardio workout on your dance pole. And I'll warn you right up front, you won't learn any tricks, spins, or other advanced moves with this DVD!
Instead, I'll lead you through a safe, effective calorie burning workout that incorporates simple-but-not-easy moves into a a fun dance routine. That's good news if you're a beginner, because I can pretty well guarantee you'll be able to do this entire workout.
There are no crazy tricks, and no difficult spins. In fact, your feet will hardly leave the ground. But that doesn't mean the workout isn't challenging.
On the contrary; while the physical strength and coordination requirements are fairly minimal, the cardio benefits are huge, even if you're an intermediate to advanced dancer.
Besides, it's a whole lot of fun, and it's guaranteed to get your glow on!
You'll be amazed at how hard you'll work and how much you'll sweat during this 40 minute workout. Yet you don't need to know a single spin, inversion, or any other advanced moves.
In fact, if you own a dance pole, or are thinking of buying one, this DVD - and the other two in the series - will open up so many more options for you.

Here are some other popular pages you might enjoy...