Pole Dancing Manuals

Home > Learn to Pole Dance > Books & Manuals
Can a Book Really Teach Me To Pole Dance?

YES! A pole dancing manual is actually a great way to learn in the comfort of your own home, and it's a very inexpensive choice.

Books make an excellent supplement to your in-class lessons or DVD library, and many people find they do quite well using only illustrated pole dance manuals or e-books.
In fact, if there are no classes near you, studying a good manual or two is a great way to get started with this form of dance.
While there are not as many pole dancing manuals available as there are DVDs, there are a couple of good ones that Your Pole Pal recommends for those wanting to try this method.
Top Pick

Natasha Williams' Pole Position Handbook was one of the very first - if not THE first - illustrated study guides ever available. It's now been revised and updated, and best of all it's now included FREE when you buy Natasha's newest manual, the Pole Tricks Handbook.

For just $27 you get two illustrated pole dancing manuals with loads of beginner to advanced tricks explained along with photos and drawings. It's a fantastic bargain! Plus, it's downloadable so you'll get instant access and can start learning right away.
It's Two Pole Books In One!
The Pole Position Handbook was one of the first ever pole dancing manuals, and has always been a fabulous learning tool to supplement your classes or to learn some great moves on your own at home.

And now it's even better, because it's actually two books in one!

Book #1 - Pole Position Handbook

The Pole Position Handbook by Natasha Williams provides illustrated, detailed instructions for 85 different moves.
This manual also has sections on accentuating your moves, combining moves into routines, climbing, and more.
Previously sold at $17.99, this popular e-book is now FREE when you purchase the Pole Dancing Tricks Handbook.
Book #2 - Pole Tricks Handbook
Natasha's newest e-book, The Pole Tricks Handbook, contains over 100 unique moves and tricks, and makes a perfect companion to her very popular original e-book.
Between the two books, there are nearly 200 illustrated moves, including kicks, spins, slides, poses, mounts, floor moves and much more!
Considering how much is packed into this pole dancing manual, it's a real bargain. Ideal for the intermediate - advanced pole dancer, and the perfect step up for those who have mastered the moves in the A-Z Guide.
And because these are e-books, you can download them instantly and start learning right away...no waiting for shipping!
You can also print them off and put the contents into a binder or two for easy reference. It will lay flat so you can refer to it easily while learning a new move, and you can even take out one page at a time and stick it to the wall at eye level so it's easier to see as you practice!
Here's an example of one of the pages from this e-book set, so you can see what you're getting...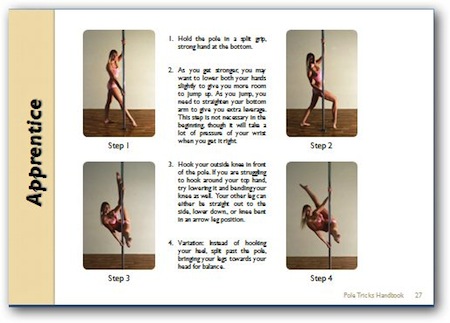 And here's a screen grab showing part of the table on contents, so you can get an idea of the different tricks you'll be learning...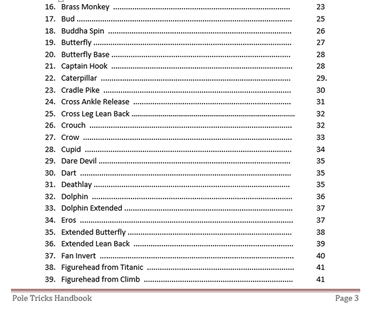 If you think a pole dancing manual fits your learning style, you'll definitely want to order Natasha's e-book set. For just $27 for the two books, you can't go wrong!
Another Favorite

Pole Essentials is another great illustrated pole dancing book, now available on Amazon.

It's packed with photos, easy to follow instructions, additional tips, and even space for your own notes. Pole Essentials is a truly practical workbook that you'll want to have by your side as you learn.

This beautifully photographed pole dancing manual is a complete guide for the beginner to advanced student. It's also an excellent teaching resource for instructors, as it breaks down the moves and illustrates each one, so you can better explain them to your students.
More Than Just A Picture Book

Gorgeous photos aren't all you get in this book. You'll get detailed instructions that actually teach you all the moves that are illustrated in the book - over 70 of them - from basic moves to advanced tricks.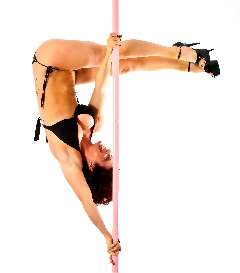 Just one of over 70 tricks you'll learn in Pole Essentials!
In addition to showing and describing some amazing pole dancing moves, the lovely Ms. Monroe (pictured at left) also includes a section on body principles.
These are simple but very helpful tips that will bring greater awareness to your practice, helping you look and feel more graceful, and reduce your potential for injuries.
Also included is a short list of "tricks and tips" to help you get the most out of your workout. These include suggestions for suitable clothing, a recommended practice plan, and what to expect as you work through the inevitable bumps and bruises that most new students experience.
While DVDs are excellent for getting the live action angle on pole dancing moves, an illustrated pole dancing manual like this one is a perfect supplement to your training.
It allows you to really take your time, read all the details and nuances, and study still shots so you can get a better feel for where everything goes, and what your body positioning should be.
Be Inspired!
In addition to detailed instructions on how to perform each move, Ms. Monroe has also included her own notes to help you with your practice.
There are also inspiring stories from some of today's top dancers, teachers and performers.
Plus, a juicy resource section will help you find your way if you're looking for additional information on anything pole-related.
There's even a fun quiz to help you discover your own "pole personality!"
One final thing that's quite unique about this book of pole dancing moves is that there's space on each page for you to jot down your own notes, thoughts, questions, or perhaps even doodle if you're a real right brainer!
This book will quickly become a journal of your own personal journey...something you will treasure for years to come as you look back on where your vertical adventure started...and where it has taken you since then.
Click the Amazon button below to get yours now!


Find More Pole Dancing Manuals & Books at Amazon