Pole Dancing Gift Ideas


Home > Gift Ideas


Need ideas for pole dancing gifts? Not to worry, Your Pole Pal has loads.
Want to save money and get the best deals? Hey, who doesn't?
Stressed about finding the perfect gift? Oh stop...it'll be fun!

Whether it's for a special occasion such as a birthday or Valentine's Day, finding the perfect present for the pole dancer in your life can be stressful...especially if you don't really "get" the whole pole dancing thing.
Don't worry, help is here!
Your Pole Pal does her very best to stay up to date on the latest goodies, gadgets and gift items that any pole dancer is sure to appreciate.
If you're overwhelmed, don't have a clue where to start, or just don't know the first thing about what your budding vertical artist might want or need, Your Pole Pal is here to help you out with suggestions and personal recommendations.
Ready to get started? Here we go!

Let's Start With Dance Poles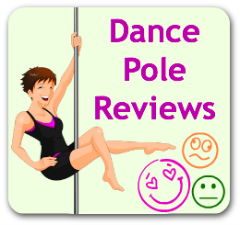 If your intended recipient is just getting into pole dancing and is feeling limited by once-a-week sessions at the local studio, a dance pole should earn you some major brownie points!
These days, you can get almost any type of pole imaginable...portable or permanent, brass or stainless, even a wake pole for your boat!

I've written detailed and complete reviews of the major dance poles, including everything you need to know to find the perfect one for your lucky pole dancer. Just click to read more...

Stocking Stuffers & Mini Pole Dancing Gifts
Your Pole Pal says, "good things come in small packages!" Here are some ideas for great pole dancing gifts even when space (or your budget) are limited...

For those who complain about slipping or losing their grip while dancing, a little bottle of grip powder tucked in a Christmas stocking might be just the thing.
Learn about the different types of grip and their pros and cons, and find out where to buy some. Click to get the scoop on pole grip...
A pair of these sexy fishnet arm warmers makes another great little pole dancing gift that's sure to delight.
As sexy as they are practical, these gauntlet style gloves help protect arms from pole burn.
Just as importantly, they leave the palm uncovered so as not to interfere with a good grip.
And they come in a variety of colours from basic black to hot pink. Click to learn more...
Of course, a DVD is always the right size for gifting, whether you tuck one into a Christmas stocking, or gift a 5 piece set like Felix Cane's Pole Dance Mastery series (shown at right).
There are so many truly awesome pole DVDs available these days, ranging from fitness-focused to advanced aerial moves and DVD footage from the latest competitions around the world.

To see a selection of popular pole dance instructional DVDs, including user reviews to help you choose the best one for your intended recipient, please visit this page.


Clothes & Shoes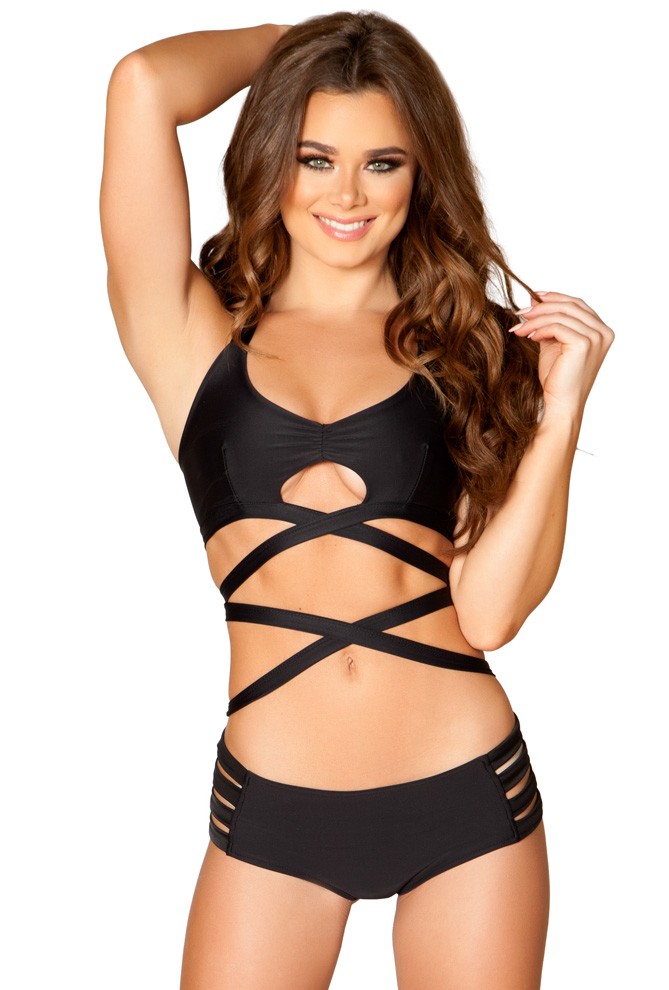 Pole dancers need enough bare skin in the right places to help them grip the pole safely.
Beyond that, each person will have their own comfort level with how much additional coverage they'd like.
For some, a sexy, strappy outfit might just fit the bill. If the pole dancer in your life enjoys playing dress up, or perhaps wants to explore the exotic dance roots of this art form, this type of outfit might be just the ticket!
Click to check out this strappy short set, and many more like it.

For others, something more fitness-oriented might be more appropriate, like this ultra colorful and super cute line from Pole Candy Wear.
High quality fabrics, bright colours, and unique designs that move with you while looking fabulous, make this a comfortable and practical clothing line for the pole fitness enthusiast.
All of the outfits pictured above, and many more, are available directly from the Pole Candy website.


---
Sexy shoes and boots are another option for the pole dancer who's not afraid of some extra fun! Your Pole Pal loves to browse for shoes, so she's compiled dozens of footwear collections suitable for pole dancing, in all different colours and styles. Check them out below!


Last Minute Pole Dancing Gift Suggestions

Out of time? Relax! Even if it's the day before the big day you can still give your favourite pole dancer the perfect gift. Here are a couple of downloadable pole dancing gift ideas that are just perfect for last minute shoppers.
How About Some New Music?

Head on over to Amazon or iTunes to download some of your favourite sexy songs. Then either burn them to a CD, or secretly transfer them to your giftee's MP3 player. Surprise!


Or Online Lessons....

Online lessons make a wonderful gift for the enthusiast who either wants to learn faster by practicing at home, or who doesn't have a studio nearby to take lessons.
There are a number of options for online learning now available, ranging from video subscription services to digital downloadable lessons.

Perhaps This Downloadable Manual?

Speaking of digital downloads, this Pole Dancing Manual can be purchased, downloaded and printed in a matter of minutes.
If you have a bit more time, you could even put it in a nice binder. That way the pages will stay organized, and the manual can be opened flat for easy reference while learning.


And If All Else Fails...Amazon To The Rescue!

An Amazon Gift Card is always a great gift. It's perfect if you don't know what the recipient needs or wants…they carry dance poles, shoes, DVDs, books and more!
Plus, if you're gifting at the last minute, you can choose a downloadable gift card to print off and give, or if the recipient is far away you can even email it or Facebook it to them!
Reminder:
If the special day is approaching quickly and you're purchasing goods that will need to be mailed - especially around the busy Christmas season, it's a good idea to confirm shipping times before hitting the order button, to ensure you're not cutting it too close!
Need more pole dancing gift ideas? Want an opinion on the right choice for your pole dancer? Trying to find a particular product?
Feel free to contact me and I'll do my very best to help!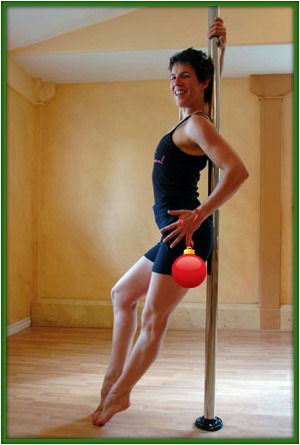 More gift ideas...