Learn Pole Dancing Moves
with the Pole Essentials Book

Home > Learn > Books & Manuals > Pole Essentials

If you're looking for a great resource to learn more pole dancing moves , Pole Essentials by Goddess Star Monroe (gotta LOVE that name!) is a must have. This beautifully photographed manual is a complete guide for the beginner to advanced student.
It's also an excellent teaching resource, as it breaks down the moves and illustrates each one, so you can better explain them to your students.




More Than Just A Picture Book Of Pole Dancing Moves

Gorgeous photos aren't all you get in this book. You'll get detailed instructions that actually teach you all the moves that are illustrated in the book - over 70 of them - from basic moves to advanced tricks.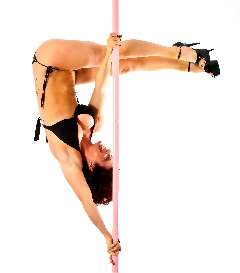 Just one of over 70 tricks
you'll learn in Pole Essentials!
In addition to showing and describing some amazing pole dancing moves , the lovely Ms. Monroe (pictured at right) also includes a section on body principles.
These are simple but very helpful tips that will bring greater awareness to your practice, helping you look and feel more graceful, and reduce your potential for injuries
Also included is a short list of "tricks and tips" to help you get the most out of your workout. These include suggestions for suitable clothing, a recommended practice plan, and what to expect as you work through the inevitable bumps and bruises that most new students experience.
"Star your book is fantastic!"
Kay Penney – Pole Passion

I have lots of DVDs... Do I really need a book?

While DVDs are excellent for getting the live action angle on pole dancing moves, an illustrated book like this one is a perfect supplement to your training.
It allows you to really take your time, read all the details and nuances, and study still shots so you can get a better feel for where everything goes, and what your body positioning should be.
"All I can say is WOW!! Star, you're fab. An inspiration and without a doubt a goddess xxx"
Faye Griggs – Pole Student


What else does Pole Essentials offer that a DVD doesn't?
For starters, it's not only an instruction manual filled with over 70 pole dancing moves, it's an easy-to-use reference to when you just want to look something up quickly. No more fast forwarding through your DVDs or trying to remember which sub-menu that trick is listed in.
In addition to detailed instructions on how to perform each move, Ms. Monroe has also included her own notes to help you with your practice.
There are also inspiring stories from some of today's top dancers, teachers and performers.
Plus, a juicy resource section will help you find your way if you're looking for additional information on anything pole-related.
There's even a fun quiz to help you discover your own "pole personality!"
Let Pole Essentials inspire you too!

"
The book is ideal for all abilities so you don't have to be a super advanced athlete to benefit from the book. The quotes and notes make the book perfect for a bit of bedtime reading or simply as a coffee table accompaniment. I would recommend the book to all and expect to see this item becoming a pole dancing best seller."
Sam Remner – Pole Dance Community


One final thing that's quite unique about this book of pole dancing moves is that there's space on each page for you to jot down your own notes, thoughts, questions, or perhaps even doodle if you're a real right brainer!
This book will quickly become a journal of your own personal journey...something you will treasure for years to come as you look back on where your vertica adventure started...and where it has taken you since then!




You Might Enjoy These Popular Pages Too...