Pole Dancing Tricks Handbook


Home > Learn > Books & Manuals > Pole Tricks Handbook


Double the Moves, Half the Price!

The Pole Position Handbook was one of the first ever pole dancing tricks manuals, and has always been a fabulous learning tool to supplement your classes or to learn some great moves on your own at home.

And now it's even better, because it's actually two books in one! Read on to find out more...

Get the A-Z Guide free when you purchase
The Pole Tricks Handbook (below)


The Pole Position A-Z Guide by Natasha Williams provides illustrated, detailed instructions for 85 different moves.

This manual also has sections on accentuating your moves, combining moves into routines, climbing, and more.

Previously sold at $17.99, this popular e-book is now FREE when you purchase Natasha's newest book, the Pole Dancing Tricks Handbook. Be sure to see all the details on this new book just below.
Natasha's newest e-book, The Pole Tricks Handbook, contains over 100 unique moves and tricks, and makes a perfect companion to her very popular original e-book.

Between the two books, there are nearly 200 illustrated moves, including kicks, spins, slides, poses, mounts, floor moves and much more!

Considering how much is packed into this resource, it's a real bargain. Ideal for the intermediate - advanced pole dancer, and the perfect step up for those who have mastered the moves in the A-Z Guide.


Only $27 with FREE bonus book
Click here to purchase
And because these are e-books, you can download them instantly and start learning right away...no waiting for shipping!

You can also print them off and put the contents into a binder or two for easy reference. It will lay flat so you can refer to it easily while learning a new move, and you can even take out one page at a time and stick it to the wall at eye level so it's easier to see as you practice!

Here's an example of one of the pages from this e-book set, so you can see what you're getting...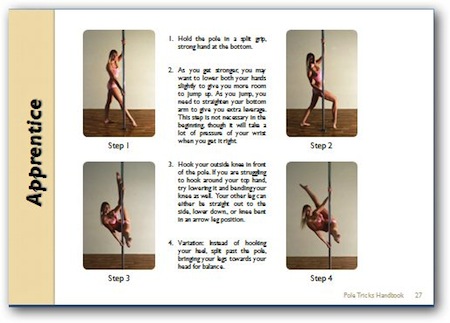 And here's a screen grab showing part of the table on contents, so you can get an idea of the different tricks you'll be learning...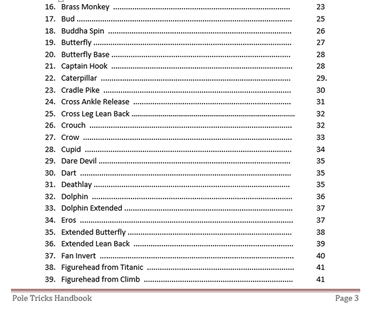 ---
If you think a book or manual fits your learning style, I encourage you to order Natasha's e-book set. For just $27 for the two books, you can't go wrong!
---

Here Are A Few More Pages You Might Like...