Pole Exercise 3 DVD Bundle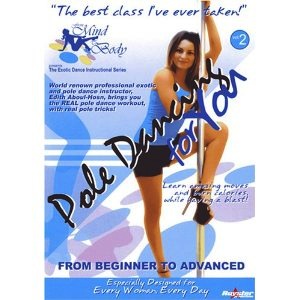 Pole Exercise 3 DVD Bundle

Click to find the best price on Amazon.com
This set of 3 DVDs teaches over 150 moves in total. It also includes a stretching section to help improve your flexibility, as well as four different routines and an introduction to dancing on a rotating dance pole.
Feedback so far indicates that there are excellent step by step instructions for the many spins and tricks that are taught, and that the dance routines are great fun, and especially helpful for those who don't have a talent for choreography.
On the downside, some people have said they find the pacing a bit too fast. However, the beauty of a DVD is that you can pause to review and practice whenever you like.
Granted, that means you may not be able to use it as a follow along workout, but that's the case for most instructional DVDs. After all, the point of an instructional DVD is to teach you different moves and perhaps some combinations.
If you're looking for a pole workout DVD, this
Pole Cardio DVD
might be more up your alley.
---
Do you agree with this assessment?
Please tell us what you think! Everyone has their own opinion, which is why we love to hear reviews from other users. If you're not sure what to write, here are some ideas:
What is the difficult level of these DVDs, in your opinion?


How was the quality and pacing of the instruction? Too fast? Too slow? Not clear enough, or perfectly explained?


Did you have favourite or not-so-favourite parts you'd like to tell us about?


How would you rate this DVD compared to others you own or have watched?
Want to buy it? Click to find the best price on Amazon.com
---

To leave your own review, simply scroll down the page a bit until you see the blue "comments" link...
---