Pole Fitness: Strength and Toning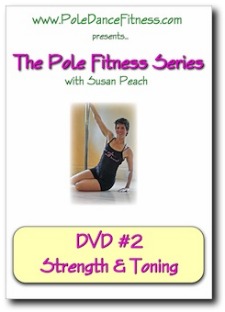 Pole Fitness: Strength & Toning
Click here to buy direct
Or click here to find the best price on Amazon.com
Pole Fitness: Strength and Toning
Basic Info
This DVD is approximately 54 minutes long and teaches a variety of upper body, lower body, and core exercises using your dance pole. Great for those who lack the strength for more advanced tricks and spins, because it helps you get stronger so you CAN do them.
The DVD focuses on safe instruction and is not actually a workout DVD; it's more of a teaching DVD. However, you can download free workout routines using the exercises taught, which is a nice way to customize the exercises for any fitness level or ability.
From the DVD cover:
Did you know that you can use your dance pole as a vertical home gym to help build the strength you'll need to do all those advanced spins and lifts safely?
In the 2nd DVD in the Pole Fitness Series, Susan and Lori demonstrate upper body, lower body, and core strengthening exercises using only your dance pole and your own body weight.
Whether you're a beginner looking to round out your pole workouts with toning exercises, or an experienced pole dancer wanting to build specific strength so you can take your pole dancing to the next level, this DVD can help you succeed.
---
Do you own this DVD?
Please submit a short review in the comments section below to help others decide if this is the right DVD for them. Here are some questions you may want to answer in your review:
When did you buy it and how often have you used it?


What level would you rate it - beginner, intermediate or advanced?


Is the instructor easy to follow and does she explain the material well?


What do you like best about this DVD? Least?


How would you compare it to any other instructional pole DVDs you've seen?


Anything else you'd like to tell us that would help a potential buyer know if this DVD was a good choice for their needs.
Click to go to the order page for this DVD
---
Scroll down to read user reviews...
Don't see any? Be the first to tell us what you think of this DVD!
---