The Pole Dancing Fitness Program

Get Fit, Strong, and Flexible The Fun Way!

Home > Pole Exercise > Pole Dancing Fitness Program


Do you wish there was a way to burn more calories with pole dancing, without having to learn advanced moves and aerial tricks?


Do you want to get more flexible to prevent injury and develop long, sleek lines?


Do you need to build more strength so you can start learning (or improve on) the more advanced moves?
Welcome to the Pole Dancing Fitness Program!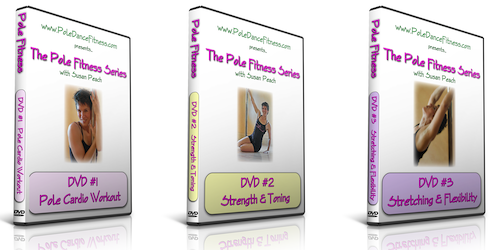 The Pole Fitness Program on DVD was developed especially for those interested in improving their pole-specific fitness.

There are lots of other DVDs, apps and online programs that teach tricks, aerial moves, spins, inversions and other intermediate to advanced pole work.
In contrast, the Pole Fitness Program program gives you specific strength, flexibility and cardio workouts, to help improve your pole-specific fitness so you'll have an easier time learning all those tricks. Think of it as a complement to your pole dancing curriculum, whether you learn at home or in a studio.
Swimmers, gymnasts, ballet dancers and other athletes constantly do drills and specific exercises to improve strength and technique for their chosen sport. Similarly, this program can help you improve your pole dancing by giving you pole-specific stretches and exercises to help you advance in your pole dancing goals.

If you want to get stronger, work on your flexibility, and up your cardio game - even if you don't yet have a single airborne move under your belt - the Pole Fitness Program may be right for you.

Watch this short preview video to see some highlights.
While there are many excellent DVDs available that teach spins, tricks, and other advanced moves, until now there hasn't been a complete program that focuses on pole-specific fitness. The Pole Fitness Program breaks down the three main aspects of fitness...
Cardio
Strength/Toning
Flexibility
...as they relate to pole dancing. By doing the exercises and stretches, you can improve your "pole-ability," even if you can't invert, spin, or climb your pole (yet!)
The Full Pole Dancing Fitness Program Includes These 3 DVDs...

DVD #1 - Pole Cardio

The first DVD in the Pole Dancing Fitness program is a "simple but not easy" cardio dance routine. You'll join in a super fun, high energy, low impact, 40 minute aerobic dance workout on the pole.
There are no spins or airborne moves (so even newbies can do it!) but a good sweat and major calorie burn are guaranteed.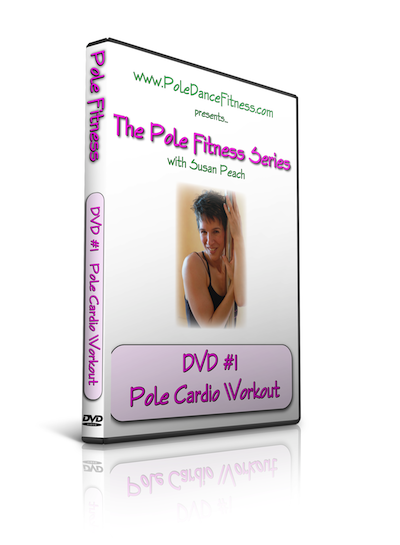 NEW - Streaming version now available at special pricing!
See below to save $10 when you order the full program on DVD.

DVD #2 - Strength & Toning

You'll learn to use your dance pole as a vertical home gym in the 2nd DVD in this program.
Watch as upper body, lower body, and core strengthening exercises are demonstrated. You can follow along when you're ready, using only your dance pole and your own body weight to improve your strength and muscle tone.
This DVD will help you build the strength and confidence you need to safely execute all those spins, lifts and crazy tricks!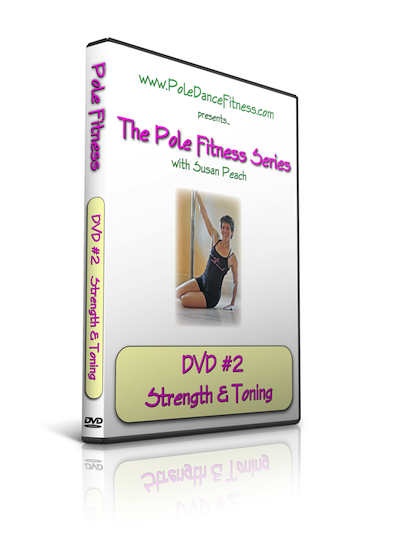 NEW - Streaming version now available at special pricing!
Or see below to save $10 when you order the full program.
DVD #3 - Stretching & Flexibility

The final DVD in the Pole Fitness Program shows you how to work with your dance pole to help improve your flexibility.
Your pole can help you stretch muscles that are hard to get at, and it can also help ensure your form is correct so you get the most out of every stretch.
This DVD demonstrates each stretch individually, and also gives you the option to put them all together and join in a relaxing 20 minute stretching routine that you can do anytime you like!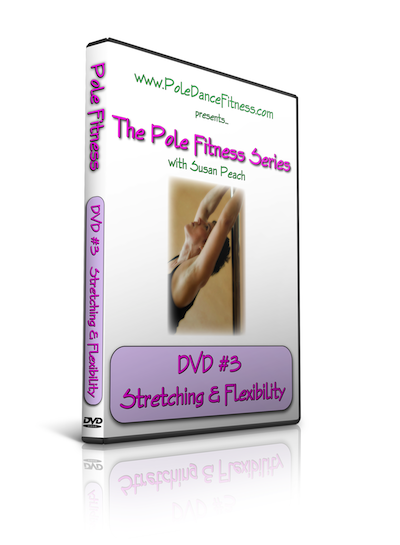 NEW - Streaming version now available at special pricing!
Or see below to save $10 when you order the full program.
Get the Full Program and Save!

If you own a dance pole, or are thinking of buying one, the Pole Dancing Fitness DVD program will help you get strong, fit and flexible. You'll be better prepared as you progress to advanced tricks, you'll reduce your risk of injury, and you'll enjoy your vertical adventures that much more.
Best of all, you'll save money when you take advantage of special pricing on the full set of DVDs.

Full Pole Fitness Program - $65

The complete 3 DVD Pole Dancing Fitness Program is only $65 when purchased as a set, and worldwide shipping is included!
Each DVD is individually priced at $25, so that's a $10 savings off the price you'd normally pay to purchase each DVD separately.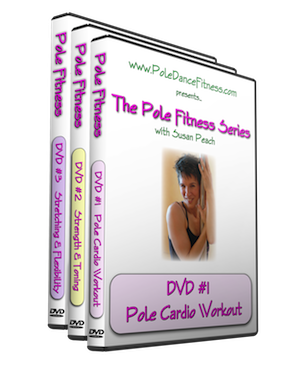 Only $65 for the complete set, shipping included!

The Pole Fitness Program gives you nearly two and a half hours of pole-specific fitness, including cardio, strength work, and some great flexibility stretches.
Together, these DVDs will help you get stronger, fitter and more flexible, using the funnest workout tool ever...your dance pole!
Important Note: These DVDs are Region 0, which means they will play on any DVD player worldwide and are not restricted to specific countries or regions.
However, they use the NTSC standard, so if you live in an area where PAL is the common standard, please check your DVD player to make sure it will accept NTSC DVDs. Some do, even though your local standard may be PAL.
The DVDs will also play on any computer.
Shipping Details: All 3 DVDs will be shipped directly to you from the United States, normally within two business day after ordering. Shipping is included in the purchase price.

Order the Pole Fitness Program on DVD today!
Of course, if you'd prefer to just order one or two of the DVDs, you can do that too. Just click on any of the single DVD images above. You'll be taken to a detail page from which you can place your order. Individual DVDs are now available in streaming format too!

Please Note: Due to copyright issues, we regret that refunds are not offered on opened DVDs, unless due to manufacturer's defects.


Your Pole Pal loves to have fun, but she also has to earn a living, right? That's why you'll see ads on this site. She may also earn commissions on some of the products you'll see here, but there's never any cost to you since the advertisers pay for these.

The income generated through these means helps ensure Your Pole Pal can devote the time to providing you with all the free and fabulous information & resources you'll find on this website.
Want to learn more? Your Pole Pal invites to you read her full advertising disclosure. You know...in case you haven't read enough legalese lately.