Online Pole Dancing Lessons
Home > Learn to Pole Dance > Online Pole Dancing Lessons

Can I Really Learn to Pole Dance Online?

Absolutely! If you don't have a studio nearby, or if you just want to supplement your in-class learning, online pole dancing lessons can be a huge help. Lots of people are choosing this method, and with today's technology it's a great option.
Three Great Reasons To Take Online Pole Dancing Lessons
Excellent Value - Much less expensive than group classes or private lessons
Convenience - Watch and learn when it's convenient for you; perfect if you're super shy, or if there's no studio close by
Review as Needed - Forget a move? Need a reminder? No problem! Watch as many times as you like during your subscription period
Of course you may have other reasons besides these for wanting to learn online, but these are the ones that pole students most often mention.
But are there downsides to taking online pole dancing lessons? Sure.
If you're not really comfortable trying new things without someone there in person to guide you and provide encouragement and reassurance, you may be better off with group or private lessons.
And if you're not the self-motivated type, you may find it all too easy to skip your lessons, whereas if you're paying at a studio you may be more likely to go to class even if you're feeling tired or grumpy.
So before you decide whether or not online pole dancing lessons are going to work for you, it's a good idea to consider not only the benefits (flexibility, cost savings, etc) but also the potential pitfalls (no accountability, no immediate feedback from an instructor, etc.)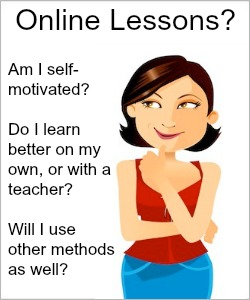 Yes, Online Pole Dancing Lessons Are For Me!

Great! But first let's get one thing straight: Your Pole Pal is NOT referring to YouTube videos.
These videos are great fun to watch of course, very entertaining (how did she DO that?!), and quite inspiring.
Just keep in mind that these clips rarely provide any detailed instruction. That's why, for the beginner in particular, Your Pole Pal suggests you view most YouTube pole videos as entertainment and inspiration only.
Trying to learn from a demo video, especially if it involves advanced moves and you're a rank beginner, is only asking for injury! Remember - safety is sexy!
OK, now that we have that out of the way, here are the online pole dancing lessons that Your Pole Pal recommends. 

Top Picks For Online Lessons

Amber Starr's Home Pole Dancing Course

Amber Starr is a master instructor and professional dancer who now offers a home pole dancing course that you can access online.

Comprised of over 100 video lessons, this course is supplemented with loads of bonus material like conditioning exercises, combinations and transitions, and a dictionary of complete pole dancing moves.
What's really exciting about this particular package though, is that you get free access to personal coaching from Amber for life! Keep reading to get all the details on this amazing package.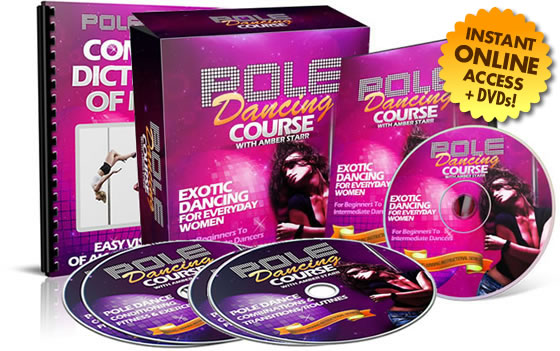 Amber Starr's complete online pole dancing course

Great Value in an Online Pole Dancing Course

Amber's Pole Dancing Course is one of the very best products online products available in terms of value for your money.
For a one time payment of just $47 you get over 100 lessons, plus lifetime coaching. That's unheard of! Plus, when you purchase this course, you'll own it outright, with no ongoing subscription or access fees.
In addition to the main course materials, you'll also receive a ton of bonus videos.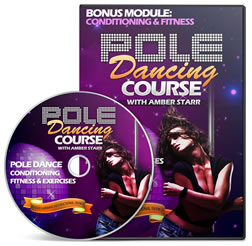 These cover specific exercises and techniques, combinations, and even a collection of the best routines from recent pole dancing championships to inspire you.
This course also comes with free upgrades for life, so that when new video lessons are released, you'll automatically get access to them as well, with no additional fees.
Convenience x 3!

Something unique about Amber's course is that you can choose from three options to access your video lessons.
For example, you can download all the lessons onto your computer to watch whenever you like.
You also get lifetime access to the members' area where you'll have streaming access to the entire library of course materials and bonuses. This is perfect if you prefer not to bog down your own system with a lot of files.

Finally, you also have the option to get all the lessons mailed to you on DVD for a small extra fee. If you're the kind of person who likes to have a physical product - just in case - it's nice to have this option!
Money Back Guarantee
Like all good online purchases, Amber's course comes with a full money back guarantee, so you have nothing to lose by trying it out. In fact, you'll have up to 60 days to watch the videos and practice what you're learning, before you decide whether or not this course is for you.
Amber promises a quick, no-hassle, no questions asked refund if you're not delighted. Now that's impressive!
If you'd like to give online pole dancing lessons a try, you can't go wrong with Amber's course. For just $47 for the entire course including personal coaching, bonus modules plus a money back guarantee, you can't go wrong!

Another Favorite

Dana's Home Pole Dancing Lessons

If you're especially interested in the fitness aspects of pole dancing, Dana's home pole dancing course may be right for you.
With a focus on the fitness aspects of pole dancing, Dana teaches correct form and technique along with plenty of popular pole moves and tricks. These range from ultra-basic through to advanced. Dana's previous training in ballet, jazz, and other forms of dance will help you develop the long, lean lines of a true dancer.

Dana's Home Pole Dancing Course
Over 130 videos are included in this streaming package, which you can access online anytime and watch as many times as you like. Dana covers everything from warm ups and stretches to pole moves and conditioning exercises. Plus you'll get access to Dana's private email address so you can ask her questions and get help anytime you need it.
Free lifetime updates are also included with your purchase. This means that when new lessons are added, or older material is updated, you'll instantly have access to these new videos without having to do a thing.

You'll also get access to two bonus videos when you purchase Dana's course: Flat and Sexy Abs, and Amazing Tush & Legs.
Dana's online pole dancing course also comes with a 60 day money back guarantee, so you can try it risk-free.

At just $47 for unlimited access, these online pole dancing lessons are well-priced and will get you off to a solid start and help you advance your pole dancing or pole fitness program. Why not try them today?!


More About Online Lessons...

Although the above courses are my current top picks, there are a few other online pole dancing schools starting to pop up as this sport continues to grow in popularity.
Until I get around to testing and reviewing the newcomers for you, here are some ways you can evaluate any new online lesson package to make sure it offers the high quality learning experience you deserve!


Are you wondering if you need a pole in order to take online classes? Jenny was, and I answered her question here.

Do you have a question about taking pole dancing lessons online? Or about any aspect of pole dancing for fitness? Check out these FAQs for answers. If you don't see the information you need just ask!

Other pages you may like to see...

Books & Manuals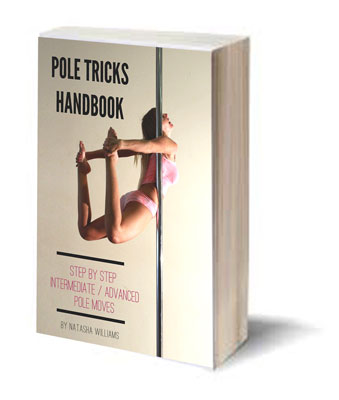 These pole dance training books and manuals are good learning aids, and they're affordable too. Expand your home study library today!
Pole DVDs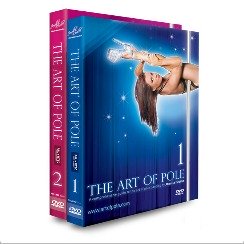 There are some awesome pole dancing DVDs available, by some equally awesome teachers and performers. Which one will you choose?
Pole Shoes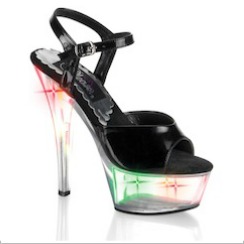 Pole dancing means different things to different people. If you'd like sexy shoes with your pole, check out this selection that's sure to please.
Aug 13, 22 03:15 PM

Search this directory of Alabama pole dancing classes to locate a studio or instructor in your area. Studio owners, get your free listing!

Aug 08, 22 07:23 PM

Check out this directory of Tennessee pole dancing studios to find classes, workshops and pole parties in your area.

Aug 07, 22 08:23 PM

This directory of South Dakota pole dancing studios will help you find classes near you.