Lil Mynx Dance Pole Review


Home > Dance Pole Reviews > Lil Mynx
This page may contain affiliate links. If you make a purchase through one of these links, Your Pole Pal may receive a small commission (at no cost to you). And that helps ensure this site stays online...thank you! Learn more.

A Lil Mynx Dance Pole May Be Right For You If...

You need a lightweight, yet durable, dance pole that is quick and easy to install


You want the safety of a removable pole AND the convenience of a friction fit model


You can't decide between a stationary and a rotating dance pole


Excellent customer service and warranty are important to you


You want a choice of colors and finishes


You have shorter or taller than average ceilings and need a custom sized dance pole



You have small hands and need a smaller diameter pole that's easier to grip


You want quick, professional, hassle-free shipping

Overview
Lil Mynx is one of the original dance poles made for home use. The company that makes these poles - Pacific International Marketing and Promotions (P.I.M.P) was started by Lizz and Randy Blacker in 2002. They are based in California, USA and ship worldwide.
Lizz and Randy's company makes a range of removable dance poles, from basic one piece stainless models to a spinning model that comes in a variety of colors. Prices range from US $229 - $339.
Lil Mynx products have been endorsed by both Sheila Kelley (S-Factor) and Fawnia Mondey-Dietrich, who was one of the first professional exotic dancers to start teaching pole dancing.
Basic Specs

Standard height: 8 or 9 feet
Extends to: 9 or 10 feet
Material: Stainless steel or powder coated steel (for colored poles)
Pole Types: Removable, friction fit, rotating
Lil Mynx does not offer a permanent dance pole
Important Stuff

Flooring

If you're installing your Lil Mynx dance pole on a carpeted surface you can use it as is.
If you're installing on any type of hard flooring (laminate, linoleum, tile, etc) you will need to purchase a non-slip floor pad like the one below for safety. This is not optional. Honest!
Floor pad for use on hard surfaces
Ceiling Height
Be sure to measure, and if it's less than 8 feet in height, Randy can make you a custom pole that is short enough to fit. If you order without measuring, there's no way to cut the pole afterward without damaging the internal mechanisms, so it's important to have an accurate measurement before you order.
All Lil Mynx poles come standard with a 12" extension so they will fit ceilings from 8' to 9' or 9' to 10' in height, depending on whether you choose the 8' pole or the 9' option.
If you have any questions about what height you should order, just send Lizz and Randy a quick email, or give them a call, and they'll be happy to assist you.
Again, check your ceiling height before you order, just to be sure you don't end up with problems when you go to install your pole.
Replacement Parts

One of the great things about a Lil Mynx dance pole is that the company offers a number of replacement parts. Although they make a quality product, sometimes a part will wear out. Or maybe you want to change out your ceiling mount from standard to vaulted if you move house. Here are just a few of the replacement parts available...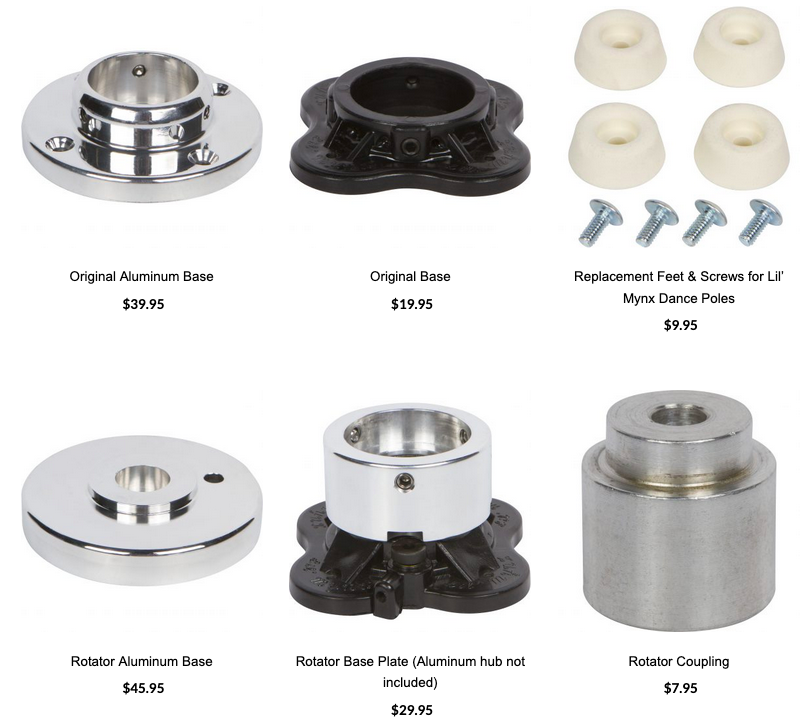 Go here to order any of the replacement parts above. And this link will take you to ceiling mounts for your Lil Mynx dance pole.

Mounting System & Installation

Lil Mynx dance poles uses one of two basic mounting systems.
All Lil Mynx poles come with a basic ceiling mount (shown on the left, below), and are considered removable or semi-permanent poles.
The mount requires one bolt into a ceiling joist, and once installed you simply place the top of the dance pole over the mount, make sure it's plumb, then tighten it into place by turning an inner slider tube.
The mount itself is simple to install with a power drill, and Randy and Lizz even includes the correct size drill bit so you can't screw up the installation!
A vaulted ceiling mount (shown on the right, above) can be ordered separately if you have sloped or vaulted ceilings. This special mount allows you to safely install your Lil Mynx dance pole on this type of ceiling.

Many people worry about drilling holes in their ceiling especially if they rent their home or apartment. However, the hole itself is relatively small, and is easily filled with a dab of spackle or Polyfil if you need to remove the mount later. It's no more difficult to repair than a nail hole for hanging a picture...really!
Colors, Styles & Sizes

One of the fun things about Lil Mynx poles is the fact that they come in pink and black, as well as stainless steel.
Both the "rotator" as well as the original (non-spinning) poles come in these two color options.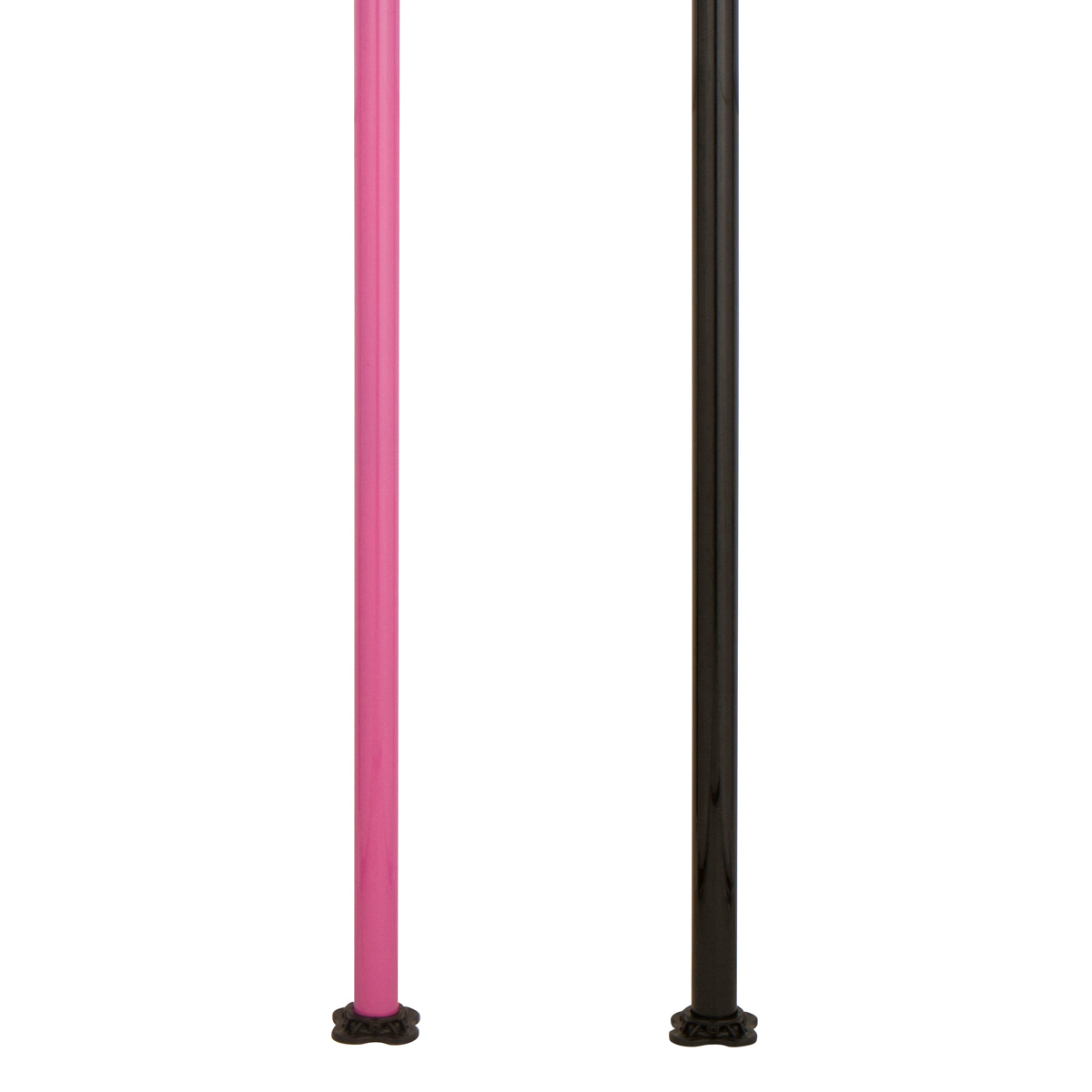 The Lil Mynx spinning model converts easily to a stationary dancing pole just by adjusting a locking pin, so they are just like having two poles in one!
If you have smaller hands, you can now order any of the poles in the petite size at no extra cost. While a standard pole measures 2" (50 mm) in diameter, the petite model is 1.75" (45 mm) which means smaller hands can get a better grip for spins and climbing.
Previously you could only get a stationary, stainless steel pole if you wanted the petite model. This is a recent change at Lil Mynx that's sure to be appreciated by those who need or want a smaller diameter, but don't want to give up their other options.
Portability

Lil Mynx used to have a 2 piece model called the Pro Pole, which came in a carrying case and was truly portable. However, this model is no longer available.
The one piece poles are not technically classified as portable, although they could be moved if another mount were installed in each location you wanted to move it to. These one piece dance poles are 8-9 feet long however, so in practical terms, they are not easily transported.
Pricing & Shipping

As of June 2022, Lil Mynx dance poles range in price from $229 - $339.
The most economical model is the 8' one piece colored pole at $229, while a colored spinning dance pole is $289.
One piece stainless steel dance poles are $279 for the basic non-spinning model, and $339 for the stainless rotator.
All Lil Mynx poles can be ordered in the petite size at no additional charge. The standard heights available are 8' with 12" of height adjustment, and 9' (also with 12" of height adjustment). For a custom size pole, either longer or shorter, the extra cost is just $30 more. 
NOTE: Prices and shipping fees can change over time. To ensure you get the most up to date information, please visit Lil Mynx's pricing page to see current pricing on all their poles.
Shipping is offered worldwide via FedEx, although customers outside of the US and Canada may find the shipping costs prohibitive.
Delivery of Your Pole Pal's pole to Canada took just under a week, and the process was smooth and simple. If you live outside the US you may want to find out if there will be additional duties before ordering, so you're not unpleasantly surprised when your shipment arrives.
Warranty & Customer Service

Every Lil Mynx pole comes with a one year warranty against manufacturer's defects when used and installed as directed. Poles used in commercial applications (studios, rentals, etc) are covered for only 30 days.

Your Pole Pal says...

In my experience, Lizz and Randy know what good customer service means. When I received my first pole from them, I called to ask what I thought must be a really stupid question. Randy was very patient and helped me get everything set up and installed quickly.
Later, when I had a problem with one of the commercial dance poles in my studio, Randy diagnosed the issue over the phone. And then, going above and beyond the call of duty, he shipped me some replacement parts free of charge, along with a custom made tool and instructions for repair, even though my equipment was long past the 30 day commercial use warranty period.
Once I had the parts and the tool, it was an easy fix and I felt rather proud of myself for being able to take care of it all by myself. Well, with a little help from Randy of course!
Was this review helpful?
Is the Lil Mynx dance pole the right choice for you? If you decide to order a Lil Mynx pole, and you found the information on this page helpful, please consider ordering via any of the links on this page.
Your Pole Pal receives a small commission when orders are placed through these links, and it doesn't cost you any more than ordering directly. Your support helps make it possible to bring you all the free pole dancing info on this website. Thank you!
---
All photos on this page used with permission from
Pacific International Marketing and Promotions.
---