XPole Dance Pole Review
Home > Dance Pole Reviews > X-Pole
This page may contain affiliate links. If you make a purchase through one of these links, Your Pole Pal may receive a small commission (at no cost to you). And that helps ensure this site stays online...thank you! Learn more.

Wondering if an XPole Is Right For You?
It may be if...
You want a portable dance pole that can fit up to an 11' ceiling (or higher!)


You need a platform pole for use at trade shows, events, or any place where ceiling height may be an issue


You want to be able to leave your pole up or take it down when you need the space


You have vaulted ceilings and would prefer another option besides a platform pole


You can't decide between a stationary and a rotating dance pole


You want a brass-look pole without the cost of real brass


You have petite hands and need a smaller diameter dance pole


Overview
The X-Pole is made by a company called Vertical Leisure, with North American offices located in North Hollywood, California. They ship all of their products and dance poles worldwide.
Vertical Leisure makes a number of different models of dance poles to suit almost every need. They make an excellent quality platform pole that breaks down for easy transport in a set of included cases, as well as a range of portable, friction fit stationary and rotating poles.
These poles can also be converted to semi-permanent (removable) poles with an optional ceiling fixture, and there's even one for vaulted ceilings!
Prices range from US $199 for the X-Pole Sport, up to $799 for the X-Stage, which is a totally portable platform dance pole with spin and static settings.
X-Pole Basic Specs
Standard height: 7'4" for all XPoles (Sport and X-Pert), 9' for the X-Stage Standard and 9'8" for the X-Stage Lite

Extends to: All XPoles extend to 9 feet with the included extensions, higher with purchase of optional additional pieces; X-Stage is a fixed height pole

Material: Chrome finish (emulates stainless steel) or Titanium Gold finish (emulates brass)

Pole Types: Removable, portable, friction fit, rotating, platform
(click on links above to read more about that general type of pole)

Vertical Leisure does not offer a permanent dance pole.
Important Stuff
Vaulted Ceilings

If you're installing your X-Pole on a vaulted (sloping) ceiling, you'll need to purchase a special ceiling mount.
These are screwed into the ceiling and are available for both the stationary XPole Sport model, as well as for the X-Pert rotating model.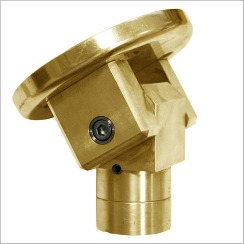 X-Pole Vaulted Ceiling Mount
The mount shown above is the Titanium Gold finish. All mounts are also available in the Silver finish (chrome) to match whichever pole finish you choose.
Ceiling Height

Unless you're planning to buy an X-Stage platform pole, do make sure you measure the ceiling height in all the rooms in which you plan to use your pole.
All the XPoles will fit ceiling heights from 7'4" to 9'. If your ceiling is higher than 9', you may need to order an additional part or two, to make sure your pole is the right height to fit your ceiling.
If your ceilings are lower than 7'4" (not likely, unless you're installing your pole in a very low basement) you can get a special order pole to fit.
X-Pole Accessories

Mounts for vaulted ceilings
Block mount to convert your X-Pole into a semi-permanent/removable pole
Release tools to make it easier to disassemble the original XPole (not needed for newer X-Poles)
Related Products

Aerial Silks
Aerial Hoops
A-Frame for use with silks, hammocks, trapeze and hoops
Mounting System and Installation
All poles made by Vertical Leisure use one of 3 types of installation: friction mount; semi-permanent (requires purchase of optional ceiling mount); or platform, which does not require a top mounting system.
Option 1 - Friction Mount Pole
The friction pads used on the ceiling pads of both the Sport Pole and the X-Pert are made of silicone. This material provides high grip capabilities, and helps to make these friction mounted poles as safe as possible.
The floor pads are similarly made. This extra strong grip is one of the best features of the XPoles.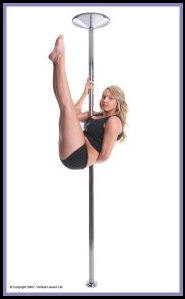 X-Pert Rotating Pole Shown with domed friction mount
Nonetheless, a friction fit pole is always less secure than a semi-permanent or permanent pole so you should make sure you fully understand the installation procedures for these types of poles.
You can read more information about friction fit pole safety here.

Option 2 - Removable (Semi-Permanent)
While the X-Pole is not available in a permanent model, you can convert your existing friction fit XPole Sport or X-Pert pole to a removable, or semi-permanent pole, with the purchase of an optional ceiling plate as shown below.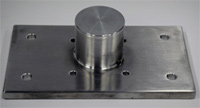 Ceiling Mount
This plate is screwed into a ceiling joist and remains there permanently. The pole can be removed whenever you like.
This option offers the safety of a permanently mounted pole, along with the convenience of a removable pole.
You will need to purchase your own screws, as the plate doesn't come with these. So be sure to select the correct type of screws for your ceiling construction. The screws can be installed with a manual screw driver, but a power driver will make the job go much quicker.
Option 3 - Platform Poles

While a platform pole doesn't require any actual installation per se, the X-Stage does require a fair bit of assembly.
However, the set up process is actually made quite simple by the unique design.
The main difference between the X-Stage Standard and the Lite model is the height of the platform.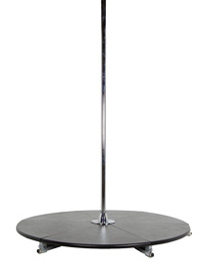 X-Stage Lite
In the Lite model (shown above), the rise of the base unit is only 4" off the ground, while on the Standard model the rise is 12".
The X-Stage Lite, while still very stable, doesn't have quite the stability of the Standard model.
If you're worried about things getting a bit tippy with your X-Stage Lite, you can always extend the legs and add weights to the posts. This can also be done for the standard model.
As might be expected, the X-Stage is quite heavy, though the Lite version weighs only about half as much as the Standard version.
Fortunately, X-Pole makes it easy for you to transport your platform pole by supplying three carrying cases with the X-Stage, one of which has wheels for the heaviest parts.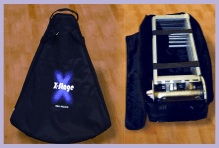 X-Stage Carrying Cases
Nevertheless, do keep the weight factor and set up time in mind if you're considering buying a platform pole, particularly if you're planning to move it from place to place.
They're ideal for some applications, particularly outdoors and in venues with very high ceilings, but for home use you're probably better off with either the X-Pole Sport or the X-Pert.
Finishes, Styles & Sizes
All XPole dance poles are available in your choice of finish, either Chrome, Stainless Steel or Titanium Gold.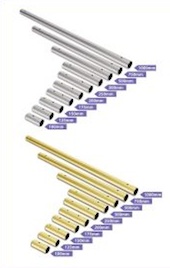 X-Pole parts showing Chrome & Titanium Gold finishes
Some models are also available in powder coated colours (black or pink), brass, or silicone (also in your choice of black or pink).

The chrome finish is silver in color and is a good general use pole for both spins and inversions, but it is a different finish than stainless steel.
Titanium Gold is gold in color and is made to resemble brass in both look and feel, however if you want a true brass pole be sure to look for that option when ordering.
As mentioned earlier, X-Poles can be purchased as rotating poles (X-Pert) or as stationary poles (X-Pole Sport). The X-Pert actually converts from stationary to spinning, so you get the benefits of both types of pole. The X-Stages also have the option to rotate or remain stationary.
XPoles are available in a range of diameters, from 1.5 inches (4omm) up to 2 inches (50 mm). Many women find the smaller diameter pole easier to grip. If you are very petite with small hands you might prefer this size of pole.

A 2 inch pole used to be the industry standard when pole dancing was more common in strip clubs and bars. The main advantage to this slightly larger pole for home use is that it makes leg holds & inversions much easier as you've got more pole to hold onto with your thighs.
Portability
All XPoles come as multi-piece dance poles and include carrying cases, making them all technically portable.
The cases are soft-sided with handles. There's a fair bit of weight when the case is loaded, but most people should be able to handle it, at least for carrying the pole fairly short distances.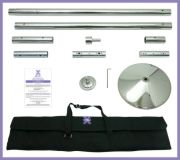 X-Pert Pole, shown with carrying case
The X-Stage comes with 3 carrying cases, the heaviest one with wheels, so this is a big help when lugging this platform pole around!
The wheels seem like a good idea at first glance, and in fact it is helpful to be able to pull the heavy case along behind you.
Unfortunately, the wheels don't help much when having to deal with stairs or lift the pole in and out of your vehicle. For this reason, do make sure you either have help, or you've devised a system for carefully navigating stairs and vehicle entries/exits when using the X-Stage.
Pricing and Shipping
At the time of this writing Vertical Leisure's XPoles range in price from $199 - $799.
The most economical X-Pole is the XPole Sport, currently priced at $199. This is a stationary, multi-piece friction fit pole that breaks down for storage or transport in the included carrying case.
An X-Pole X-Pert pole starts at $289 for the powder coated finish. This is a rotating pole. It is also a multi-piece friction fit pole and comes with its own carrying case.
The X-Stage is the most expensive pole at $799, but is well worth it if you need the ability to use your pole anywhere, regardless of ceiling height. The price is the same for the Standard Model (12" high base) or the Lite Model (4" high base).
NOTE: Prices and shipping fees can change over time. To ensure you get the most up to date information, please visit the X-Pole website.
XPole ships their dance poles within the US, as well as to the following countries via satellite warehouses: Canada, Mexico, UK, Australia, South Africa, New Zealand, Russia, South Korea, China. Orders are generally processed within 24-48 hours, and shipping takes 2-5 days on average.
International customers like me will appreciate the fact that there are no customs duties payable on the XPole because of the fact that they are shipped from an in-country warehouse.

Warranty & Customer Service
Every X-Pole comes with a six month warranty against manufacturer's defects when used and installed as directed. Defects from normal use, wear and tear, being dropped, or anything outside of a pure manufacturing defect are not covered.
If you change your mind after receiving your XPole, you may be able to return it within 30 days if it's unopened & unused. A 10% re-stocking fee may be applied.
I haven't had occasion to use X-Pole's customer service department, but I find their website very thorough and complete. There are video tutorials covering assembly and maintenance of all their pole models, and contact information is prominently displayed should you have a pre or post-sale question.
Was This XPole Review Helpful?

Is the X-Pole dance pole the right pole dancing pole for you? If you decide to order an X-Pole, and you found the information on this page helpful, please consider ordering via any of the links on this page, including this one.
XPoles pays a small commission when orders are placed through these links, and it doesn't cost you any more than ordering directly. It's just one small way you can help Your Pole Pal to keeping bringing you all the free pole dancing info on this website. Thank you!


Or, check out these pages instead...

Crash Pads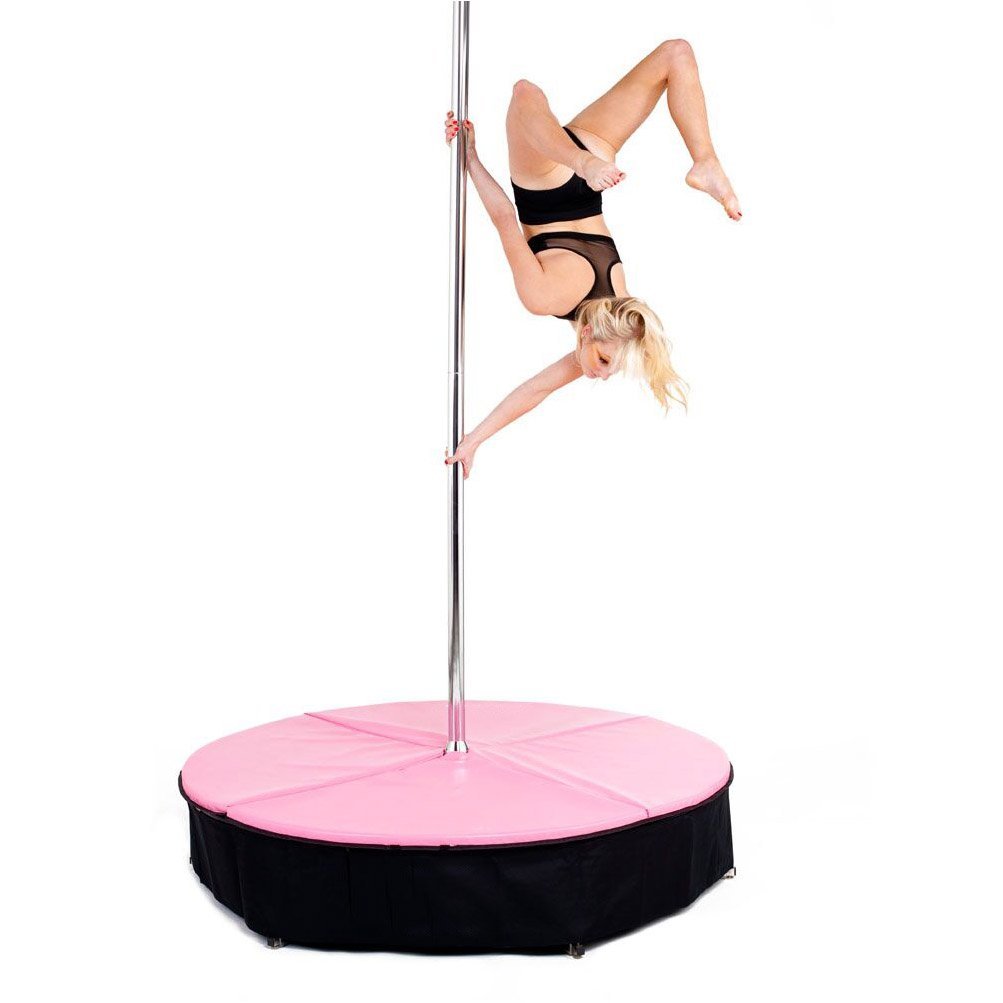 Better safe than sorry! Learn more about the importance of pole safety, and how a crash mat can help protect you from injuries.
Pole DVDs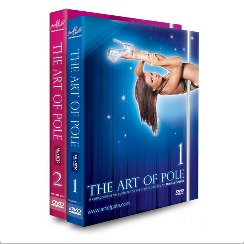 There are some awesome pole dancing DVDs available, by some equally awesome teachers and performers. Which one will you choose?
Pole Safety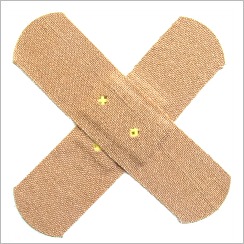 Staying safe and injury-free may sound like a boring topic when you'd rather be learning sexy moves. But Your Pole Pal says, "safe is sexy!"
All photos on this page used with permission from Vertical Leisure.