Pole Dance Directory
Submission Page


Home > Pole Dance Directory > Submission Page


Attention pole dance instructors and studio owners:

Thousands of potential students visit our website every month.

Shouldn't they be finding YOU here?
---
Many visitors arrive at our pole dancing directory every day, searching for a studio or a party company in their area.
We also get frequent email requests from visitors looking for pole dancing classes or parties in their area.
Now you can reach out to this market with your own
Showcase Page in this popular directory

Choose a free Basic listing, or pump up your promotion with a Premium directory listing and get additional features designed to help you reach more potential customers. Here's what you get...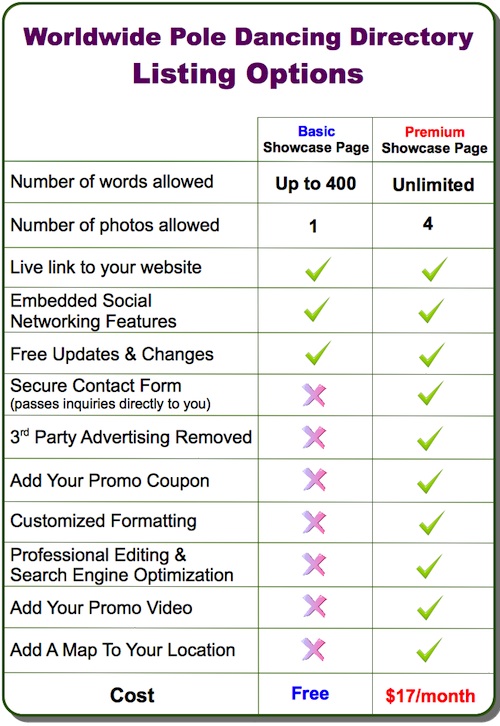 See How It Works!
Test Drive the Pole Dancing Directory
(The directory page will open in a new window)



What makes this pole dance directory different from all the others?
Good Question!
 Benefits Of A Showcase Page In
The Worldwide Pole Dance Directory...
Our directory is searchable so people can find you without having to click or scroll through a ton of categories. But we also provide geographical listings so people can find you both ways.|


You get a full page that you can use to showcase your business. There's room for lots of information, up to 400 words with our free Basic Listing, and unlimited words with the Premium Upgrade.


You can include a photo or company logo on your Showcase Page (up to 4 photos with a Premium listing)


Your students can visit your listing and leave a comment or testimonial about their experience with you. This helps future visitors feel more confident contacting you because they know you already have satisfied customers.


You get a relevant, high-quality link back to your site (the best kind!).


Social Networking features are included with every Showcase Listing Page, to help you get the word out about your Showcase Page and your business. Just click to Tweet or Share on Facebook!


A Premium Listing gives you even more benefits. Just review the chart above to see all the extra goodies you'll get!
---
Ready To Create Your Showcase Page?
Fabulous! Please read this first...It's IMPORTANT
Please make sure you read and follow the guidelines in the submission box below (they will appear once you enter your studio name).

Unfortunately, we must decline more than half the submissions we receive because they don't follow our simple guidelines. And we just don't have the time to track you down and ask you to re-submit.
Bottom line: if you read & follow the guidelines, you'll get a free Showcase Page listing in this directory. If you don't, you won't.

We really do want to help you get found, so please...
Help us do our job by reading and following the guidelines
(they'll appear below once you've entered your city & business name)

Thank you!
---
Create Your Directory Showcase Page
Just fill in the form below. We'll send you an email confirmation once your listing has been approved, along with info on how to upgrade to a Premium Listing if you like.
Who's In Our Directory?
Some of the studios listed in our directory appear below. You can also search the directory to find a specific studio.